HOLLY MARTIN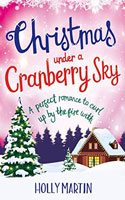 Christmas Under a Cranberry Sky (2016)
Pip hasn't got a place to call home because she's always on the move as a travel writer, reviewing hotels around the world. Planning to take a six-month sabbatical, her last assignment is at the Stardust Lake Hotel on Juniper Island, where it is Christmas year round. But she has no idea that she's about to run into her childhood sweetheart, Gabe – the guy who broke her heart years ago.
With a sweet romance and plenty of festive spirit, Martin has created a really magical atmosphere with her winter wonderland. I'll definitely be returning to Juniper Island, as there's a sequel to follow about Gabe's sister, Neve.

---
Fairytale Beginnings (2015)
Milly works for Castle Heritage, and is sent on an assignment to Clover Castle, a huge and unusual castle in a remote village. Owner Cameron Heartstone hopes that Castle Heritage can help him maintain the rundown castle he has inherited. As the two begin to explore and discover secrets about the castle that were hidden for years, their feelings for each other intensify, but both are afraid of being heartbroken again.
Milly is one of my favourite protagonists in any book I've read recently. Funny, spunky, gorgeous and with brains to match, there was nothing to dislike about her. The chemistry between her and Cameron was palpable throughout, and I couldn't wait to see what would happen next in their relationship. The castle itself was interesting, with plenty of hidden passages for the characters to explore, I looked forward to seeing what they would discover next. And the eccentric villagers were a wonderful addition to the story. This is another great read from Holly Martin. (LO)

---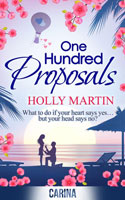 One Hundred Proposals (2014)
Suzie runs the Perfect Proposals company with her best friend, Harry. They arrange unique and uber-romantic proposals for couples. When Harry embarks on a project to propose 100 times to Suzie as a way to boost business, the pair find themselves winging around the world, discovering spectacular and memorable locations as the proposals range from the amazing and emotional to the quirky and cheesy. But the trouble is neither realises the other wants to be more than friends. Suzie thinks that each time Harry proposes it's just a PR stunt, while Harry doesn't know how else he can show that he has fallen madly in love with her.
This is a sweet story that focuses on the will-they-or-won't-they aspect of friends becoming much more. Perfect for the true romantic, it takes readers on a rollercoaster ride where hopes are raised then dashed. With such an impressively effortless writing style and absorbing plot, it's certainly obvious why Holly Martin is becoming a firm chick lit favourite.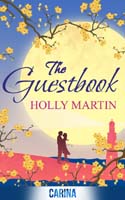 The Guestbook (2014)
Willow Cottage is situated in a gorgeous seaside village and is owned by the widowed Annie Butterworth. A multitude of eclectic guests walk through the front door and whether they stay for one night or seven, they all make an entry in the guestbook. Without any kind of formal narrative, we are able to learn about each of the characters through their comments in the guestbook.
Annie's brother-in-law, Oliver, is a regular visitor and we see his and Annie's friendship blossom over the course of the novel. We are also privy to the thoughts of the cleaning lady, Sophia. The majority of guests who stay in Willow Cottage are using it as an escape from their problems and we get to find out all about the lives that they lead, whether they are ill, pregnant, on the verge of divorce and everything in-between!
I haven't seen such a unique and well-executed idea in this genre for a very long time. The range of emotions I went through whilst reading this book was vast. I laughed, I smiled, I gasped and at points I even felt sad but the overall feeling of this book was one of joy. The main character Annie developed beautifully over the novel; she went from a seemingly lonely widow to a woman who didn't want to waste another moment of her life living in the past. Olly provided some fantastic comical moments and was also really protective over Annie and her cottage.
The one thing I particularly loved about this book was the plethora of fonts used throughout. It made it instantly clear who was writing in the guestbook because each character had their individual font. This meant I didn't have to keep flicking to the end of each guestbook entry to see who was talking. The author managed to give rich descriptions of the location and characters without breaking the theme of the book. There were no added descriptions between entries; everything you learn about the location and characters is gathered through the guestbook entries. So very clever! (LL)