HOLLY JAMES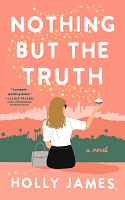 Nothing But the Truth (2022)
Publicist Lucy, who is about to turn 30, is all packed up ready to move in with boyfriend Caleb and has her fingers crossed for a proposal on her birthday.
On the job front, she is also hoping that scoring a new client in upcoming actress Lily will ensure she is promoted to senior publicist.
But the night before her birthday, she heads to a bar where she makes a wish over a drink concocted by bartender Adam. The next day, she realises she can't tell a lie. Not to her boyfriend, her mother, her boss and colleagues, her clients – and most importantly to herself.
With its Liar Liar premise (Lucy deduced she'd been put under some honesty spell a bit too quick for my logic), this story is basically told over the course of a day. It soon morphed from the expected witty tale about a celebrity publicist who can't stretch the truth anymore to one about fighting workplace harassment and inequalities – with its message delivered somewhat heavy-handedly. Not gonna lie, this book was a mixed bag for me.

---