HILARY DE VRIES
Hilary De Vries is an entertainment journalist who has covered Hollywood for more than a decade.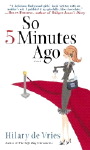 So 5 Minutes Ago (2004)
Being a celebrity publicist at a Los Angeles PR firm isn't the glamour job Alex Davidson thought it would be. When her firm is bought out by a rival agency wanting to chase bigger clients, it looks like her boss and many of the staff will be forced out. But Alex can't seem to fall out of favour with the new boss, Doug Graydon, known as G. Something just doesn't add up. As Alex handles an actor just out of rehab and romantic interest from a New York-based colleague, can she keep her wits about her and find out what G is up to.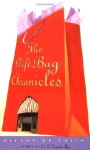 The Gift Bag Chronicles (2005)
The sequel to So 5 Minutes Ago, Alex Davidson is now head of publicity for one of LA's top publicity firms. But the rift in her relationship with colleague and boyfriend Charles, who lives in New York, is growing wider and she's got a big magazine party to organise but she just can't see eye-to-eye with its editorial director. Maybe time out with her family is what she needs. But her holiday back home keeps getting interrupted by calls from a TV star about her wedding gift bags. Will Alex, and her gift bags, measure up?

---
---