HELLY ACTON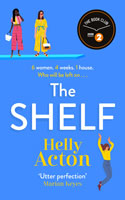 The Shelf (2020)
Amy thinks her boyfriend Jamie is taking her for a surprise holiday (where he just might propose) but instead he dumps her on the set of a reality TV show called The Shelf. The women on the show have all been left there by their partners to face up to what they do wrong in relationships and vie for a million-dollar prize if they are crowned 'The Keeper'.
As the show grows in popularity, the contestants fight back against the sexist elements of the concept and learn lessons about themselves and what they are willing to accept in life.
At last a book about a reality TV show that is actually about a reality TV show!! For most of the story, The Shelf takes us right into the Big Brother-style setting with its challenges, therapy room, public voting and social media wall. And it is to be applauded for its strong 'don't accept this shit, ladies' message. One to pass on to your girlfriends.

---