HAYLEY QUINN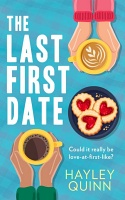 The Last First Date (2022)
When her ex showcases his new engagement on social media, baking blogger Helen decides to give online dating a go. She matches with entrepreneur Brody, who is looking to settle down and go on his "last first date".
After an amazing date, where they share the barest of personal information, a glitch with the dating app means all contact details have been erased. So Helen has to try to track down Brody with the few clues she has.
This debut novel has an intriguing premise but the plot meandered into bland territory and I was waiting for some much-needed conflict to spice things up.

---