Harriet Evans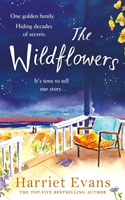 The Wildflowers (2018)
This story centres around the Wilde family: Tony is a famous actor who is well known for his hospitality – and his affairs, his wife Althea is also an actress but is prepared to stay in his shadow, and their two children Ben and Cordelia. They spend their summers at a holiday house on the coast in Dorset, where the mistreated girl next door, Madeleine, becomes an extra member of their family.
Wow, what a spellbinding story - a family drama that flits back and forth in time between 1940 when war orphan Tony is taken under the wings of his colourful aunt Dinah, to 2015 when the house passes on to Cord, a singer who has damaged her beautiful voice. With plenty of family secrets being slowly revealed, it's a long read – 500 pages plus – but well worth it.

---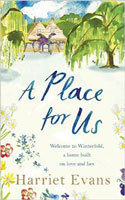 A Place for Us (2015)
Welcome to Winterfold, a beautiful country house set in peaceful Somerset and home to the Winter family for nearly five decades. At its heart are Martha and David Winter, for whom their family is everything. But as Martha approaches her eightieth birthday, she decides it's time to come clean with her children and grandchildren about some long-kept secrets. Martha, though, is not the only one with secrets, in fact every member of the Winter family has something they're hiding - some more than others. On the outside Winterfold and Winter represent the perfect English family but a web of lies is holding it all together.
Harriet Evans has created a warm and inviting book that, like Winterfold, makes you feel at home. It's a hugely evocative book that conjures up the spirit of home and family. It's also ambitious and multi-layered, told from the perspective of several characters, but for me this never felt confusing or disjointed as the characters are so clearly drawn and each manages to pull you in to their particular story from the outset. Inevitably there are some characters that are more intriguing than others but such is the way. Originally this novel was published in four parts and although there are wonderful climaxes to each section I can't help but think this actually worked better as a single entity. There was more I would have liked to learn about this family, most notably David, as well as more about David and Martha's earlier years and relationship, and of course Daisy, the archetypal black sheep of the family. Indeed, I could easily have spent many more hours with the Winters and was sorry when things came to an end. (JC)

---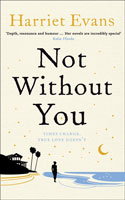 Not Without You (2013)
Actress Sophie Leigh has always had a fascination for 1950s movie legend Eve Noel. Indeed the rom-com queen would love to bring her life to the big screen and find out what ever happened to her after she disappeared from public life. A worthwhile project like that would make a nice change from her Hollywood agent pushing ditzy roles on her. So when Sophie returns home to England for a movie about Anne Hathaway, Shakespeare's wife, she takes the opportunity to track down Eve. The story of what happened to Eve in the 1950s runs in tangent with Sophie's story. Eve always had a piece missing from her heart since the day her mischievous sister, Rose, was swept away in a swollen stream. While she falls into marriage with mean-spirited Gilbert, she falls in love with alcoholic screenwriter Don. But what causes Eve to throw in her star-studded lifestyle and vanish into thin air? Meanwhile, it seems, someone has it in for Sophie, leaving her eerie messages, seemingly connected to Eve Noel.
Although its mystery elements and dual narrative leave you wondering what will happen next, somehow this book didn't fire for me. It just didn't feel like a Harriet Evans novel.

---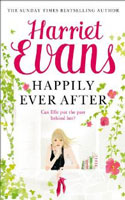 Happily Ever After (2012)
After watching her parents' horrible marriage and bitter divorce, Elle Bee does not believe in fairytale endings. At age 22, Elle moves to London to work in a publishing house. As she works her way up the career ladder, she transitions from a naive girl wearing too short skirts to a career woman on the fast track to the top. As her career starts to thrive, her love life struggles to keep up. Her affair with her boss, Rory, results in her realising how much she still needs to learn. Ten years go by and Elle Bee is at the top of her career living in New York and engaged to a well-known author. A trip back to England might be the last chance Elle has to defy her beliefs and get her happily ever after.
This novel is a wonderful realistic portrayal about the ups and downs of a woman balancing her career, her family and the many wrong men she encounters and the one right man who always appears at the wrong time. (AO)

---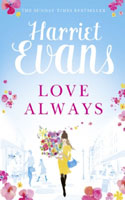 Love Always (2011)
Natasha returns to Summercove, the family home in Cornwall, for the funeral of her grandmother Frances. When she finds a diary kept by her aunt Cecily, who died in tragic circumstances when she was only 15, it spurs Natasha to uncover the rest of the story about Cecily's last summer. It was 1963, a time when the Profumo affair dominated the headlines, and the Beatles dominated the turntables. Frances was a well-known artist, her Indian husband Arvind an academic writer. Natasha's mother, Miranda, and her twin brother, Archie, had just finished school. Their cousin Louisa was also staying, and had invited along her boyfriend Frank and his brother Guy. As the story of what happened is slowly revealed to her, Natasha may well find the inspiration she needs to revive her struggling jewellery business - and move on from her broken marriage.
The story from 1963 may be the most powerful element of this cleverly plotted book but as a total package it was completely unputdownable.

---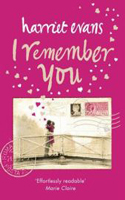 I Remember You (2009)
Tess Tennant and Adam Smith were best of friends growing up, they did everything together and were each other's first loves. Everything was going great until they reached 18. Tess was offered a place at the University College London while Adam was offered a full-ride scholarship to Cambridge. Adam was about to leave when his mother Phillipa died suddenly, leaving him alone and disillusioned, passing on university to stay in their small town. Fast forward to years later, Tess is desperate to get away from a broken relationship so decides to come back to her hometown and take up a job at Langford College as a Classics teacher. Seeing Adam again stirs up some long-forgotten feelings but he's pre-occupied with his girlfriend. So Tess jumps at the opportunity to go on a class trip to Rome. But when a holiday romance turns sour, Tess heads home - to find Adam gone. Tess then once and for all has to decide to stop running and choose where she wants to be and with whom.
This is a wonderful story all about trying to find your place in the world and never forgetting who you are. It makes you realise that you will always remember your first true love. (PP)

---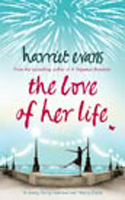 The Love of Her Life (2008)
Kate Miller reluctantly leaves New York to return to London to be with her sick father, a professional musician. Her return forces her to face up to some issue of the past - her ex-fiance Sean; her best friend Zoe who is bringing up her children without her husband; the promising magazine career she left behind; and a former colleague who is desperate to get in touch again. And most importantly she is reunited with the man she believes is the love of her life.
For those who love the slow reveal of why a character is running from her past - the author's best to date.

---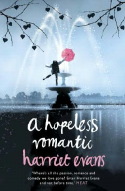 A Hopeless Romantic (2006)
Laura Foster admits that she lives with her head either in the clouds or buried in a romantic novel. When her latest relationship with Dan ends (he had promised to break it off with his girlfriend but instead broke it off with her), Laura swears off men and goes on a holiday to Norfolk with her parents and grandmother. But when she meets Nick at a stately home, she finds it hard to keep her promise to herself that she won't get caught up in romantic fantasies anymore.

---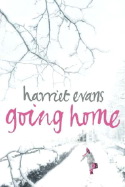 Going Home (2005)
Lizzy Walters heads home for Christmas, after breaking up with her boyfriend, David. But it looks far from a quiet Christmas at Keeper House, with her parents planning to sell the family home, her cousin announcing he's gay and her uncle turning up with a new wife.