GIOVANNA FLETCHER
Walking on Sunshine (2021)
Zaza and Vicky are still getting over the loss of their vivacious and spirited friend Pia to cancer. She left some Rules of Death with husband Mike, such as clearing out her wardrobe and going on adventures.
The trio decide to go on a guided trek in the Andes mountains of Peru, which pushes them to their physical and emotional limits. But getting away may have come at just the right time, to offer them a new perspective. Zaza, who is newly engaged, has been flirting with a new colleague, while Vicky is overwhelmed by motherhood, and Mike is finding it hard to move on.
With the story alternating between the viewpoints of the three friends, their high-altitude mission won't fail to inspire you. It also includes a brief catch-up with Billy from Giovanna's debut novel.

---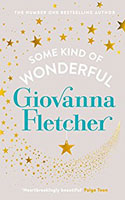 Some Kind of Wonderful (2018)
Elizabeth met Ian at university when she was 18 years old and they have been together ever since. Ten years later, all their friends are getting married, while Elizabeth is still waiting for Ian to propose. And when she thinks he is finally popping the question, he announces that he can't see a future with her.
Heartbroken, Elizabeth moves back to her family home and tries to move on with her life. She soon realises that since she's been with Ian, she is no longer the funny, outgoing person she used to be. She had dreams and aspirations that she gave up on. So she decides to get back to her old self, the one who used to go dancing in clubs, who used to sing all the time, who used to wear high heels, and not turn down a night out with friends.
Although I found the character of Elizabeth a bit too self-absorbed at times, I found her entertaining and liked her vitality and determination as she goes on a journey of self-rediscovery. This is the first novel by Giovanna Fletcher that I have read and I really enjoyed it. I like her writing style, fluid and clear, and she created an engaging, feel-good, and thought-provoking story. Now, I am looking forward to reading all her other novels. (NP)

---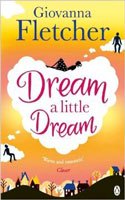 Dream a Little Dream (2015)
When singleton Sarah starts having dreams about an acquaintance from her past, Brett Last, she gets a little respite from her own abysmal love life. Brett is very much the man of her dreams, and there's no way he could be that perfect in real life, not that she is likely to run into him in reality. Until she does! But can Real Brett live up to Dream Brett?
Giovanna Fletcher really knows how to do chick lit and this latest book is no exception. A great premise is backed up with a great bunch of characters. And the dreams which kick off a number of the chapters have that perfectly authentic blend of bizarreness and normalcy – there's even a sweet cameo from the author's husband – and lend the book its USP.
Real Brett's arrival on the scene was a bit too belated for my liking and Sarah's responses to him were a bit unfathomable as she's rather cool and distant. Yet it's charming and endearing throughout, and comforts you like a great big warm hug. (JC)

---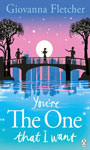 You're The One That I Want (2014)
Maddy, Robert and Ben are three friends who have known each other since childhood. Growing up together, they were affectionately known as 'The Tripod' - were three people that made up one whole; without each other they were nothing. This novel follows them as they go through childhood, adolescence and their early to mid-twenties.
Maddy has never fancied either of the boys, they've always just been her friends; she's seen them at their best and at their worst, and has never wanted to be anything more.
However, as the three grow up, a whole host of complicated emotions stem from each of them and soon the three of them are trapped in a love triangle; one that is full of emotion and potential heartbreak. What do you do when you have to choose between the two people you love most in the world?
I found that I connected instantly with Maddy; when I was growing up I had a lot more male friends than female friends and have had two best male friends, so I could completely relate to the dynamic between the three main characters. I think this is a really strong point of the novel, so many people will be able to relate to the situation Maddy finds herself in.
The story is told from three viewpoints which made for some really lovely insights into the way each character was feeling. I loved getting into Ben's head and seeing how he felt (he was probably my favourite of the two guys) and it was really interesting seeing how each character perceived the others' behaviour in totally different ways. Maddy is the perfect female lead; she is funny, caring, confusing, loveable, just everything a teenage/young female character should be!
The novel takes place in various locations: in Peaswood where the three grow up, at university, in Paris, in London...the list is endless! I loved how smooth the transition from each location was and how accurately and concisely Gi managed to describe them. She has the perfect narrative voice for this genre and writes in such an experienced way that you fall head first into her fictional world.
The characters are beautifully formed and develop spectacularly well over the course of the book. I adored this book from the first page to the last - it's a beautifully told story exploring the notion of friendship and first love through three gorgeous characters who will capture your heart. (LL)

---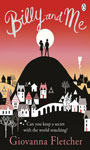 Billy and Me (2013)
A tragedy in Sophie May's childhood has left her rooted to her home in the sleepy Rosefont Hill. Instead of uni, a gap year and having fun with her peers, she lives at home with her mum and works at a tea shop, owned by her best friend, the pensionable Molly.
Her life seems to be moving gently along until the arrival of a film crew, who are filming a new adaptation of Pride and Prejudice, and the leading man, Billy Buskin. When Billy starts frequenting the tea shop, the two strike up an attraction and the relationship blossoms with Sophie agreeing to move down to London with Billy where he is due to start a play. In London, Sophie is thrown completely out of her comfort zone but she tries to adapt to Billy's lifestyle and career. When his latest film sees him paired opposite a former girlfriend however, their relationship is tested to the limits.
This is a sweet and charming debut. However, I felt the romance between Billy and Sophie was rushed and therefore that it lacked real intensity or interest and there were other elements of the plot that I felt were underdeveloped.
Sophie's secret which is emphasised in the blurb and is hinted at throughout is also not particularly different or overwhelming. However I enjoyed Sophie's journey and also found the sections dealing with loss very moving. (JC)