GEORGIA CLARK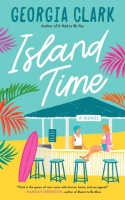 Island Time (2022)
Sisters Amelia and Matty have organised a family holiday on Mun'dai, a (fictional) remote island off the coast of Queensland. Amelia wants her family to get to know James, the guy she hopes will soon be her fiance.
Matty is here with her American wife Parker and her in-laws before moving back to Sydney to hopefully start a family.
What the sisters don't know is that their parents, Jules and Glen, have separated.
Liss works on the island looking after guests. This is her last time, as she is heading home to Montreal on the next boat. But then a natural disaster leaves them all stranded on the island for six weeks.
Like the way their holiday turned out, this book was not at all what I expected. With plenty of heart-stopping drama caused by the setting, I did want to yell at the characters to just stay on the beach and stop venturing off into dangerous terrain – but then I guess playing safe does not a story maketh! I really loved the way information about the indigenous culture and local environment was woven in.
I was expecting more humorous friction between the Australian and American families but instead the story was more about the characters having the time to reflect and re-examine their lives. There were a LOT of POV changes and I also did find at times the storyline got bogged down with the same emotional issues played out over too many chapters.

---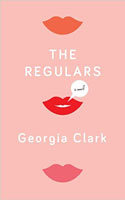 The Regulars (2016)
Evie is a copy editor for the women's magazine Salty but she dreams of writing about more important issues than lipstick and online dating.
Willow is an artist who is trying to make it without the help of her famous father and Krista dropped out of law school to become an actress. They are best friends who live in New York - regular girls in their twenties trying to find their place in the world.
And the magic liquid Pretty gives them exactly what they want: they become not only gorgeous but also cheeky and confident (although the side effects are quite disgusting).
I loved these three flawed characters as they discover that being beautiful doesn't always get you what you want. It's an original, engaging and captivating novel. A brilliant read that made me laugh out loud and read late into the night. (NP)