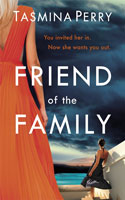 Tasmina Perry's latest novel, Friend of the Family, will make you think twice about who you invite into your home.
The summary says: "She thinks your life is perfect. She thinks you don't deserve it.
Amy is more than happy to offer the daughter of an old friend work experience at her London magazine. Josie is young and ambitious. She just needs a foot in the door.
When Josie arrives, she swiftly makes herself indispensable at work and at home. And when childcare falls through before a long-awaited university reunion in Provence, it begins to look as if Josie may be staying longer than Amy had bargained for.
In the heat of Provence, Josie's presence starts to unsettle Amy, especially around her husband. As cracks begin to appear in Amy's perfect life, she cannot shake the feeling that the family friend may not be a friend at all..."
Friend of the Family is out in September 2018.
TEXT