FREYA NORTH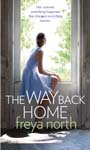 The Way Back Home (2014)
When Oriana Taylor was 15 she was ignominiously sent away from the artists' commune in which she had grown up after an incident that rocked the small community. Having moved to America and built a new life there, Oriana has been able to avoid the realities of that past. But when she's forced to return to live in the UK, once more she comes face to face with her old home, her family and brothers Malachy and Jed Bedwell. This was my first Freya North novel and I thoroughly enjoyed it. The plot was engrossing and although the mystery of the incident surrounding Oriana's departure is fairly discernible from quite early on, the actual circumstances of, and behind, the event remain an enigma until near the end which made for an intriguing read. I loved the way the past and the present were intertwined especially when it came to the relationships between Oriana and Malachy and Jed and it was pleasing to see this dynamic treated in a more mature novel, although it would have been nice to see more of what passes between Jed and Oriana. Oriana's relationships with her parents were less developed which was a shame as both Robin and Rachel had the potential to be intriguing characters and in particular Rachel's relationship with Oriana felt overlooked. Each of the Taylors were also not the easiest characters to like but I enjoyed the fact that they were imperfect and their relationships weren't straightforward and uncomplicated. Overall I thought this was an accomplished novel that has a maturity and depth that was nice to see. (JC)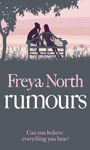 Rumours (2012)
When Stella Hutton takes on a multi-million-pound country estate of Longbridge Hall, home to eccentric Lady Lydia, she thinks her luck might be changing. Desperately secretive about her past, and over-protective of her son Will, she hopes commission from a sale would provide them with much-needed stability. But as Stella gets to know Longbridge Hall, she finds it impossible not to be led by her heart. Especially when Xander, who grew up on the estate, starts to cross her path. If you've read a Freya North book before, you'll know that there's a warmth and homeliness that she creates with her characters that make you want to be their friend, as well as a few dirty romps along the way. It's a nice enough read, I personally would have liked a few more twists and turns and a few more obstacles in the way for Stella, rather than just her past. (AB)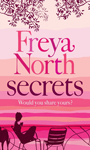 Secrets (2009)
Single mother Tess needs to leave London - and in a hurry. She heads up north to the seaside town Saltburn, moving into bridge engineer Joe's rambling old house as his housesitter. But who is she running from, why is she so broke and why does she detest the beach? Joe is an emotionally distant character who spends a lot of time overseas - with a girlfriend in every port - but he soon finds he misses being away from the home that Tess has been building with her toddler Em. But he's also keeping something from Tess - will they soon trust each other enough to share their secrets? Now you know that these two are going to get it together but it takes nearly 500 pages of often mind-numbing tedium to get there. Perhaps the only question readers really need answered is why was this book so boring and slow?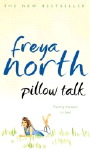 Pillow Talk (2007)
London jeweller Petra Flint bumps into her schoolgirl crush while hunting for Easter eggs in North Yorkshire. She last saw Arlo Savidge when he was on stage in a teenage rock band. Now he's a music teacher at a boys' boarding school. As Petra spends time with Arlo, they discover they share unusual night habits - she's a sleepwalker and he's an insomniac. Read this for its well-developed characters with intriguing passions and revealing pasts.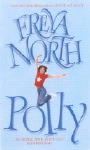 Polly (1998)
Things get pretty tangled when English Lit teacher Polly Fenton heads off on an exchange to Vermont in the US. Despite boyfriend Max proposing at the airport, Polly gets a crush on phys ed teacher Chip. His girlfriend, Jen, is Polly's replacement in England - and maybe in Max's life.

---
Also by author:


The Turning Point



Chances



Home Truths



Love Rules



Pip



Fen



Cat



Chloe



Sally
---