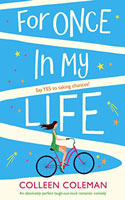 For Once in My Life, by Colleen Coleman, is about finding the hero in yourself.
The summary says: "Twenty-nine-year-old Lily Buckley planned to be happily married and in her dream job by now. Instead she's been single since being left at the altar three years ago, and works at her local paper, writing about giant vegetables at the village fete and a dog who looks exactly like Chewbacca.
Not quite what she was dreaming of. So when Lily's given the opportunity to write her own column it's exactly what she's always wanted - except what she has to write about. She has to do one thing every week that scares her.
With encouragement from sexy colleague - and adrenalin-junkie - Christopher, Lily agrees. From sky-diving to haunted houses, Lily is going to be pushed to her limit. But Lily is hiding something - the thing that she fears the most of all...
Ever since her heart was broken Lily has been afraid of falling in love again. Will fear hold her back once more - or can Christopher help her to finally find happiness?" For Once in My Life is out in November 2018.
TEXT