FIONA NEILL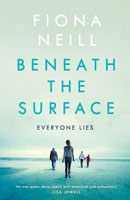 Beneath the Surface (2019)
Grace struggles to stay in control when her teenage daughter, Lilly, collapses at school. As rumours swirl about what caused it, her younger daughter, Mia, has her own wild theories surrounding an archaeological dig and a pregnancy test. Meanwhile the family house is falling further into disrepair and her husband further into debt.
This is a very atmospheric book about a dysfunctional family with secrets, set near the Fens, a marshy region in England. The star character for me was young Mia, an outcast at school who looks at the world in a totally different way to most people.

---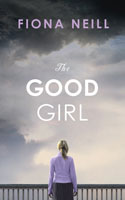 The Good Girl (2015)
The Fields are still settling into village life in Norfolk – with Ailsa thriving as head teacher at her new school - when hippy neighbours move in and a disturbing video involving a student appears. To tell much more about the story will potentially ruin it for readers, so I'll stop right there. Told from the viewpoints of both Ailsa and her teenage daughter, Romy, this is a compelling read with plenty of complexities. All the characters were intriguing and the underlying issues offer real food for thought.

---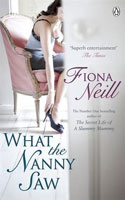 What the Nanny Saw (2011)
Ali has been the nanny in the Skinner household for a couple of years. Nick and Bryony are a power couple of the London financial world. He is an investment banker with Lehman Brothers while Bryony works magic with her own financial clients. They have four children, twins Hector and Alfie who have such strong bond it worries their mother; teenager Izzy who starts rebelling to gain attention; and university student Jake who spends most of his time wrapped up with his girlfriend. Ali has become so much a part of the furniture that when a scandal breaks involving the family, all eyes are on what she heard and witnessed behind closed doors. This is a dark domestic tale set amid the financial meltdown.

---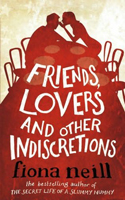 Friends, Lovers and Other Indiscretions (2009)
This is like The Big Chill but set in the credit crunch noughties and without the funeral. A group of friends who first met in their 20s are now approaching their 40s. TV scriptwriter Sam is feeling insecure about his professional future - and his relationship with wife Laura is suffering because he doesn't want another child. Lawyer Janey has left behind the love of her life, photographer Patrick, and instead settled down with hedge fund manager Steve. Meanwhile restaurant owner Jonathan is fast becoming the latest British food wunderkid, while his wife Hannah is happier embracing her country roots. When the friends all go away on holiday for Jonathan's 40th birthday, the deceptions and misconceptions - many of them decades old - can't stay hidden for long.

---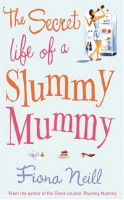 The Secret Life of a Slummy Mummy (2007)
For former TV news producer Lucy Sweeney, being a mother to her three sons is not easy - it has been years since her washing pile was less than a metre high, months since she had sex with her architect husband and only a week since she did the school run in pyjamas. She also has to contend with the attentions of Sexy Domesticated Dad and the criticisms of Alpha Mum as she tries to uncover her inner domestic goddess.