FIONA CASSIDY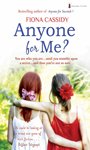 Anyone for Me? (2010)
Thirty-four-year-old Ruby is about to marry her love Luke but first she would like some answers about her birth mother - like where did she inherit her fiery-red hair and fiery-hot temper. But Ruby's widowed mother, Isobel, is very unwilling to talk about the adoption and tries to steer her away from delving into the past. As Ruby deals with her upcoming nuptials - assisted by her flamboyant hired help Gabriel and her bridesmaid Frankie (from Cassidy's debut novel Anyone for Seconds?) - she begins to track down the woman who gave her up. Meanwhile something fishy is going on when new owners move into the manor house near her mother's cottage in Donegal and Ruby is on the case. Will Ruby find all the answers she's searching for? The subject of adoption and searching for a sense of belonging is handled very sensitively, a matter clearly close to the author's heart. But for me the star was definitely the quick-tempered Ruby. You just wouldn't want to get on her wrong side.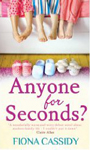 Anyone for Seconds? (2009)
Frankie has recently met the man of her dreams, Owen, at the college where she is temping as a public relations officer. The lecturer was abandoned by his wife Jane when their daughter Angelica was only seven. Frankie has a lot in common with her new boyfriend as her husband Tony also dumped her and then headed off to the US with his stick-insect lover. He hasn't seen his kids Ben and Carly since. But if the path of true love never runs smooth, then the road to Frankie's second chance at love and a united family is definitely littered with potholes. Not only does she have to deal with one very moody and insolent teenager who isn't keen on another woman entering her dad's life, she also has to face off against two spiteful in-laws in the form of her ex's grandmother "Nebby Peg" and Owen's sister-in-law Brenda. But on her side she has her sister Ella, back from Scotland for a visit with an upsetting secret, and her wild-haired friend Ruby. Frankie is a feisty character who will resonate with those who have walked in her shoes. A promising debut - I'll be back for seconds.

---
---