CREW VIEW - FAVE BOOKS OF 2013
2013 has been a big year for chick lit releases but what have been the personal favourite reads of the Chicklit Club's team of international reviewers?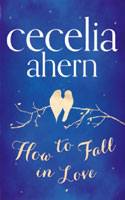 Angela: My favourite book of the year for 2013 has been whittled down to three choices. It was too hard to pick just one, so forgive me for that! First off, I loved all three of these books for different reasons but felt they all were stand-outs in a year where there were so many great books published. So, my choices, in no particular order, are: How To Fall In Love By Cecelia Ahern, Christmas At Claridge's by Karen Swan and Fangirl by Rainbow Rowell. Each author has established herself as great for one reason or another: Cecelia writes poignant stories with heart, that usually have some sort of moral; Karen writes decadent books that make you feel all cozy and warm inside; and Rainbow writes books that are both witty and moving and will always leave you thinking about them long after you put them down. Why didn't I choose just one? Well, that would be because I felt that each of these three brought something different to the reader. They all seemed to find their own little niche within the chick lit genre and took advantage of it. When you read a book that you rave about to your friends and family months after reading it, then you know it has to be one of the best you've read all year! This year, there just happened to be three...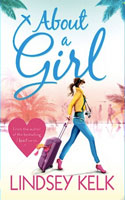 Anna: 2013 has been a great year for books, and in my mind there has been stiff competition for my book of the year, but just pipping Never Google Heartbreak (Emma Garcia), Wish Upon a Star (Trisha Ashley) and Me and You (Claudia Carroll) is About a Girl by Lindsey Kelk. I was nervous about reading a Lindsey Kelk book that was not part of her I Heart series. I'm a little bit in love with Angela and the gang and wondered if About a Girl would be live up to the big shoes of I Heart. It tells the story of Tess who masquerades as her photographer flatmate after her own life begins to fall apart. Sending herself on a swanky assignment to Hawaii, she soon starts to learn about herself and who she wants to be. It's funny and witty and has all the charm of Kelk's other novels and I'm delighted to learn that there's a sequel.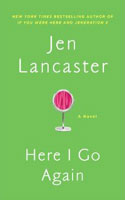 Annmarie: My favorite book of 2013 was Here I Go Again by Jen Lancaster. Lissy Ryder was the stereotypical mean high school girl. Twenty years later she is still beautiful and still mean, however, karma is about to catch up with her. Lissy gets the opportunity to travel back in time and change her ways. The book is completely unbelievable and completely predictable, however, I loved it. I felt like I was sucked into a great 80s John Hughes movie. If you love the 80s and can quote any line from The Breakfast Club and Pretty in Pink, run out and read this book.
Chelsey: The Rosie Project by Graeme Simsion is a refreshing, humorous, original story. I loved the main character, Don Tillman. He is a geeky, socially awkward genetics professor who lives by routine and evidence-based ideas. Don was written in such a way that you can't help but love him, despite his many failings. In fact, he reminded me very much of a young man I was friends with years ago, and I kept thinking to myself, "OH my God, he is JUST like my friend!" After trying (and failing) to find a mate (or at the very least, someone to have consensual sex with), Don decides that the best way to find a wife is to have a lengthy questionnaire to filter out unsuitable partners. No smokers, no vegetarians, and definitely no one who is late for appointments. And then, he meets Rosie Jarman, a free-spirited, feminist vegetarian who usually runs late, and is looking for her biological father. Thus, Don starts The Rosie Project, where he and Rosie use genetic testing to help find her father. I don't remember the last time I laughed so much while reading a book. (I think I got a few weird looks from my husband as I snorted my way through this wonderful story). Being the socially inept person that he is, Don often says and does things that are shocking, embarrassing, and hilarious.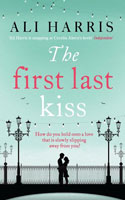 Jade: I have absolutely no hesitation in naming Ali Harris' The First Last Kiss as my book of the year. There have been some big-name releases this year that have drawn a lot of attention, but this book quietly came along yet made a resounding impact, and for the sheer quality of the plot and the emotional integrity, this book deserves the highest praise. The love story between Molly and Ryan is one of the most beautiful I've read for a long time and this certainly has all of the characteristics of a classic, including a heartbreaking conclusion that won't fail to bring a tear (if not huge, ugly sobs) to every reader.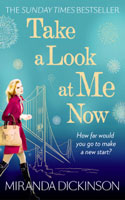 Jody: My favourite book of 2013 is Take a Look at Me Now by Miranda Dickinson. The novel tells the story of Nell Sullivan, whose life is suddenly thrown upside down when she loses her job and the chance of getting together with her ex-boyfriend. On a whim, she decides to use her redundancy cheque to book a flight to a destination far away from England, to get away from it all. Soon Nell finds herself in San Francisco for eight weeks. She falls in love with the city while at the same time she tries to figure out what she wants to do with the rest of her life. Miranda Dickinson is without a doubt one of my favourite chick lit authors and with this novel she has once again come up with a brilliant and captivating read. I fell in love with everything about this novel and I highly recommend it to any lover of romantic comedies or chick lit out there. It is a fabulously enchanting and inspiring novel that will sweep you off your feet and convince you to not let go of your dreams, whatever might be thrown at you. A great message to end the year and start 2014 with, if you ask me!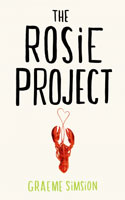 Laura: Whenever I am faced with questions about favourite books I have to think long and hard about the answer. This year has been one of the most prolific reading years of my life and I have read over one hundred and fifty books so to try and choose just one is a little hard, to say the least! There were three books that I was torn between and they were The Rosie Project by Graeme Simsion, The Husband's Secret by Liane Moriaty and Dear Thing by Julie Cohen. They were all perfect in their own way but I think if I had to narrow it down to one then it would be The Rosie Project. Not only was this book unique and refreshing in terms of the plot, it was also incredibly well written, witty, well-paced and addictive. From the very first page I was absorbed into the world of Don and it was an absolute joy to go on a journey with him. The cover was strikingly beautiful, the author himself was incredibly humbled by the praise and the whole story told a tale full of emotion, love and touched on the more important things in life. It was an absolute joy to read and I sincerely hope that you managed to read it.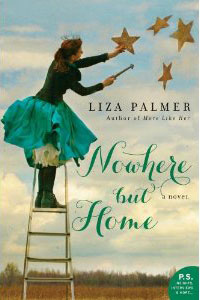 Leah: My favorite book of 2013 was Nowhere but Home by Liza Palmer, which tells the story of Queenie Wake, who is returning to her hometown in Texas after spending several years working in various restaurants around the country pursuing her dream of being a chef. I'm not sure what it was about the book that resonated with me so much but I just really loved the story of a woman realising where she belongs in the world and how family, home and the past fits into that equation. The compassion Queenie shows to the inmates on death row whom she's cooking for was really heartwarming in an otherwise grim situation. The book is wonderfully written and the characters are fantastic. This is a must-read for any fan of women's fiction.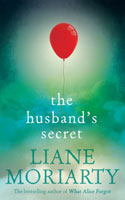 Leanne: My favourite read of 2013 is The Husband's Secret by Liane Moriarty. Her complex characters weave a story based on the past and hidden secrets. It contains suspense, what ifs and surprise. Moriarty doesn't insult the reader by leaving things neat and tidy and there's an explosive ending. But just when the readers thinks it's all coming to a resolution, the author inserts an epilogue that contains unknown possibilities and throws the story on its head, to leave the reader thinking well after the book has finished.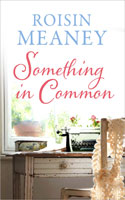 LIsa: My favourite book of 2013 is Something in Common by Roisin Meaney. It was a really well-written book, with an intriguing and original plot. From the very first page it captured my attention and held it throughout, and plenty of unexpected twists kept me interested until the very end.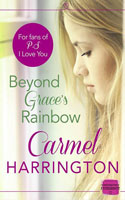 Melissa: I am emotionally moved by a novel only on rare occasions. On receiving a surprise gift in the shape of Kindle Fire HD, the very first book downloaded was Carmel Harrington's Beyond Grace's Rainbow. As eager as a child with a new toy, I sat and read the story from beginning to end within four hours. I was immersed in the storyline which captured my heart and my soul. Whether it is because I am a mother or because I am a daughter, I'm not really sure, I just know there was a connectedness to the characters where I could see parts of myself through each of them. Through the laughter and the tears, I was taken on an unmistakable journey where love and tragedy took hold of the imagination, placing the reader deep within the pages of the novel. Through each turn of events, I was there, experiencing each heartfelt emotion. It is hauntingly beautiful and I simply cannot recommend this novel enough.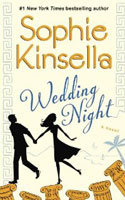 Pooja: Since I am a huge Kinsella buff, it goes without saying that my favourite book of the year is Wedding Night by Sophie Kinsella. Even though it is a bit different (in the narration style) and (if I dare say) not as good as Kinsella's past novels, there is something quite appealing about this read. Dealing with post break-up depression, Lottie takes the most outrageous and frankly, the craziest decision ever to get married to Ben -her long-lost fling. Anyone who has read Kinsella will know that what follows is hilarious chaos and exasperating antics from Lottie and her sister Fliss. Kinsella's heroines are known to be drama queens and Lottie is no different. Kinsella developed the plot with her usual trademark humour which always does it for me. Even though it is not her best, this warm and light-hearted chick-lit still livens up my otherwise drab day whenever I curl up with it.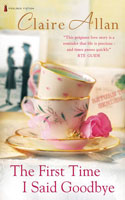 Shirley: My book of 2013 is Claire Allan's The First Time I Said Goodbye. Based on a true story, it asks the question: would you hold on tighter if you knew you were saying goodbye forever? The novel, set in 1959, tells the story of factory girl Stella Hegarty who finds herself falling unexpectedly for the charms of a handsome US marine based in Derry. Caught up in a whirlwind of romance, Stella finds herself planning a new life in America with her beloved Ray. But when tragedy steps in, both their lives are thrown into turmoil and they come to realise they may have said their first, and last goodbye. This book, alternating between the past and the present, is beautifully evoked and has that unputdownable factor I'm always looking for in a book in spades. The only thing missing is a sequel!
---
---