INTERVIEW
January 2014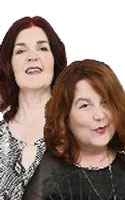 EVIE HUNTER
Evie Hunter is the pen-name of Caroline McCall and Eileen Gormley. In 2012, they were approached by Penguin with a request to write an Irish Fifty Shades of Grey. For the next five and a half weeks, they locked themselves up in a haunted house for a writing marathon. The result, The Pleasures of Winter, launched bad boy Jack Winter on to an unsuspecting Irish public. Since then they have written two more novels, The Pleasures of Summer and The Pleasures of Autumn. Caroline, who also writes urban fantasy and paranormal romance, lives on the east coast of Ireland. Eileen, a former freelance reporter, is now a breastfeeding counsellor. (Interview by Shirley Benton-Bailey)
1. Tell us about your path to publication.

Caroline: I started out writing articles for magazines and journals - usually pieces about genealogy/history of buildings. My first attempts at writing fiction were so woeful, that I decided to go back to college to learn how to do it properly. My big break came when American publishers Ellora's Cave published my sci-fi romance called Timeslip. Two other novellas followed – Jake's Prisoner and Virtually Yours. Ellora's Cave had a submission call for stories which featured tattoos, so Eileen and I decided to do a co-write 'for the craic'. We wrote a novella called Angels, Demons and Doms which was our first foray into the world of BDSM. We were busy writing a follow-up when we were contacted by Penguin. They asked if we would be interested in writing for them and whether we could write quickly. Of course we said yes!
Eileen: I had been a journalist, and had spent years reporting crime. I was burned out and felt I had no creativity left. I did a writing course in UDC, and wrote a joke short story about a space vampire. The tutor, Patricia O'Reilly said, 'That's good, make a novel of it.' I did, entered Don't Feed the Fairies in the Amazon Breakthrough Novel Award and got to the quarter final. It was picked up and published that year, along with the follow-up, Don't Eat the Earthlings.

2. Tell us about each of your co-written releases to date.

Caroline: Our first novel in the Pleasures series is called The Pleasures of Winter. It's the story of Abbie Marshall and her relationship with Irish actor Jack Winter. He's a notorious womanizer and Hollywood A-lister who hates reporters and Abbie is (you've guessed it) a top news reporter. It's hate at first sight, until their plane crashes in a South American jungle and they are forced to work together to stay alive. In The Pleasures of Summer, we meet spoilt society brat Summer O'Sullivan. She proven too hot to handle for every bodyguard her airline-owning father employs, until she meets former army ranger Flynn Grant. When Summer tries the same tricks on him, Flynn decides to teach her a lesson. He takes her away from her designer clothes and party lifestyle and moves her to a safe house in the remote Scottish Highlands. And then the sparks begin to fly. For our latest book, The Pleasures of Autumn, we pay a return visit to the O'Sullivan family. This time we encounter Summer's cousin, Sinead O'Sullivan. She's an uptight museum curator who's in a lot of trouble. When the Fire of Autumn - the most valuable ruby in the world - is stolen from the museum where she works, investigator Niall Moore is hired to stop her fleeing and to find the jewel. Although Sinead denies the theft, no one believes her. Niall uses every weapon in his erotic armoury to get at the truth. We had lots of fun with this one. In addition to the Pleasures novels, there is a novella to accompany each one. We usually give these as freebies to our fans when we launch a new book. The Touch series of novellas are available as ebooks on Amazon.

3. Who is your favourite character in your books?

Caroline: I usually write the female character, so I have to pick Sinead O'Sullivan in The Pleasures of Autumn. It was a challenge to write such an uptight, bossy character with so many flaws and yet make her likeable.
Eileen: I love Jack Winter, of course, but I think my favourite is our current heroine, Roz Spring, who is a bad girl with a soft centre.

4) Erotica obviously exploded on the scene with Fifty Shades of Grey but its popularity remained high even after the initial hype died down. What is it about the genre that has made it so popular, and do you think its success will continue?

Caroline: Apart from the sex? Lol Good erotica relies on an intense emotional connection between the main characters. They must be driven by their passion for each other and be willing to move heaven and hell to be together. I think that erotica has moved from top-shelf to mainstream. This has been helped hugely by the advent of the e-reader which allows women to read what they want, without worrying about people seeing the racy covers. But readers are discerning, and quite frankly, wall-to-wall sex can become boring. With the Evie Hunter novels we strive to write a cracking good story that will keep our fans on the edge of their seats - or still awake at 4am because they can't put it down.
Eileen: The great thing about erotica is that you get to see the characters are their most exposed and honest. We spend nearly all our time with our society manners on, so when we get naked with another person, it's often the only time we can be ourselves without hiding behind a polite mask. And let's face it, a good erotic novel is steamy sexy fun.

5. As a writing duo, how did it come about that you decided to work together?

Caroline: We met at college in 2010 where we discovered that we had scarily similar reading tastes. At the end of the summer term we realized that we would really miss the structure of the class and we decided to form a writers group to keep the writing momentum going. Although Eileen and I write very different things - she loves Regency and I adore paranormal romance - we wondered what it would be like to co-author a story together. We eventually got the opportunity in 2012.
Eileen: The first story we wrote together was almost a joke. Ellora's Cave had a submission call out for a tattoo-themed story, but we had only ten days to do it. We knew it was mad, but thought it was a one-off. We had no idea that Penguin were delighted that between us we could work so fast.

6. How do you work - do you sit down together and write, or write designated parts and email each other?

Caroline: Evie Hunter has a very tough schedule. We tend to work day/night shift and we call our work in progress 'the lump'. We email it back and forth to each other daily. We talk several times a day and have plot meetings once or twice a week. We don't have time for re-writes, so every thing has to be plotted out really well. As to the mechanics of who does what, we write split POV (point of view). We each take a primary character and concentrate on writing scenes from their point of view. This means that we can really get to know our characters and each character has a distinctive voice.
Eileen: Every time we meet, no matter what else is going on, we end up talking about the book and brainstorming details. We were at a big lunch today, and before it was over, we were busy scribbling details on a napkin. We spend a lot of time on Yahoo to each other, discussing plot and character and other stuff.

7. How would you describe your writing style?

Caroline: When I'm not writing an Evie Hunter book, I like to muse for a few months about my characters and their story line. They simmer in the back of my head, even while I'm working on another project. I have to write every day. It's as essential to me as breathing. My personal style is a little softer than Evie's – she's quite naughty. (laughs) I like layering my characters, building them up until I know everything about them from where they went to school to what they carry about in their pocket or handbag. But they always surprise me.
Eileen: My novel lives in my head while I'm writing it. I go to sleep thinking about it, waking up thinking about it. I'm ever so slightly obsessive until it's down on paper. Because I write historical and SF, I have to do huge amounts of research. I might have a dozen memoirs and reference books out on the kitchen table at any time.

8. Who are your favourite writers?

Caroline: That's a toughie. I'm a compulsive reader with bookshelves in every room in the house. Just a few of my favourites are Angela Knight, Cara McKenna, Joey Hill, Lorelei James, Laurann Dohner and Cherise Sinclair.
Eileen: Oh, lots and lots. I like Angela Knight, Anne McCaffrey, Georgette Heyer, Loretta Chase, Jo Beverley, Elizabeth Ann Scarboro, Jeffrey Farnol, Suzanne Brockmann, Morgan Hawke, Kresley Cole and a lot more.

9. What books have you most enjoyed reading recently?

Caroline: Mirror of My Soul by Joey Hill; Willing Victim by Cara McKenna; Dracula by Bram Stoker.
Eileen: To Kill a Mockingbird; Catcher in the Rye; Lothaire by Kresley Cole.

10. What advice would you give to aspiring authors?

Caroline: Write every day - you can't edit nothing. Find a good writers group where you can share your work and learn to deal with criticism Don't give up.
Eileen: Finish your book. Even if you think it's a steaming pile of crap, and you are convinced that it will never amount to anything. Don't go back and edit the beginning, just keep writing until you finish it. Once you've done that, you can edit it into something great.
---
---