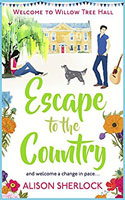 Alison Sherlock returns to Willow Tree Hall for the second novel in the series, Escape to the Country. The summary says: "Everyone is running away from something - but will an escape to the countryside suit everyone?
Journalist Eleanor McCartney leads a glamorous life in London exposing the sordid secrets of famous celebrities for Hot Gossip! magazine. But her perfect life is a sham. So when her world collapses, she has to reluctantly head home to her mum and friends in the quiet country village of Cranley.
Willow Tree Hall is still in the midst of extensive renovations under the careful eye of Eleanor's best friend Annie and her fiance, record producer and future Earl of Cranley, Sam Harris.
With a recording studio now in the grounds of the estate, it should be the perfect place for global singing sensation Tom Kingsley to hang out. But Tom is burnt out after a gruelling worldwide tour and is escaping the paparazzi after yet another scandal. Eleanor cannot believe her luck. A story on the world's biggest superstar would be the ticket that gets her job and glamorous life back in London.
But soon both Eleanor and Tom begin to fall under the spell of Willow Tree Hall. Eleanor begins to wonder whether she can really betray his trust. And does she really want her old life back or is home really where the heart lies? As a heatwave soars, friendships are made, truths are told and, with the help of a stray dog, perhaps love can be found as hearts are healed. By escaping to the country, maybe Eleanor and Tom have found their new beginning." Escape to the Country is out in May 2018, following on from A House to Mend a Broken Heart.
TEXT