INTERVIEW
June 2010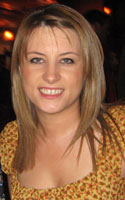 EMMA HEATHERINGTON
Emma Heatherington is the author of Playing the Field and the late 2010 release Since You've Been Gone. She also writes romantic suspense under the pen-name Emma Louise Jordan, including The Truth Between. She lives with her husband and three children in Co Tyrone, Ireland. Her website is www.emmaheatherington.com. (Interview by Shirley Benton-Bailey)
1. Tell us about your books.

My first novel, Crazy For You, was published by Dodder Books in 2007. Since then I have signed for three books with Poolbeg Press and another set of three books under Poolbeg's Crimson range (which I write under the pseudonym Emma Louise Jordan). Playing the Field – a romantic comedy which takes a behind-the-scenes look at the worlds of WAGS - was released in September 2009. Beyond Sin – a suspense which tells the story a family wedding that goes tragically wrong – was released under the Poolbeg Crimson range in July 2009.

2. Did it take you long to get your first book published?

I was lucky in that it all happened very quickly. I won a short story competition in May 2005 and by the following year I had the bones of Crazy For You written. I sent it out to several agents and publishers and by November I had a deal with Dodder. My move to Poolbeg was managed by my agent Ger Nichol of The Book Bureau in 2008.

3. How long does it take you to complete a book?

Because I now write two books a year, I have to be very strict with how long I can spend on each one. I wrote Beyond Sin in just four months. I find that when I am disciplined I can write very quickly.

4. Do you have a daily writing routine?

I work part time as a scriptwriter/arts facilitator which allows me at least two days in the week to write my novels. I am definitely a night-time writer though as I tend to spend a lot of time during the day distracted by emails etc and as a mother of three young children, there is always a lot of other distractions that come my way! However, when deadlines are looming, I work best and don't mind burning the midnight oil.

5. Which comes first for you – characters or plot?

It changes but I think I prefer when a character comes to mind first as it gives way for a meatier story. The characters lead the story and I often find that my plot will be steered in different directions in accordance with how that character wants it to go.

6. Which of your books did you enjoy writing most? Is there a particular type of character you like writing about the best?

Most of my books have been based around characters who are in their 20s which gives me great freedom to write about the single life. I loved the vibrancy of Sophia Brannigan, the hapless Wag in Playing the Field and the colourful leading lady in Cara McCarthy who was a tomboy in comparison. I like to take two opposite types of character and put them together and see what happens. For example, Cara's down-to-earth personality and outlook would never normally have taken her into a world of glamour and wealth but when she finds herself working at the luxurious Summer Manor for Premiership footballer Dylan Summers and his girlfriend Sophia, sparks fly in more ways than she could have imagined.

7. Who are your favourite authors?

My favourite authors are Roald Dahl, Marian Keyes, Jodi Picoult and Anita Shreve. I love to read a variety of genres but tend to stay away from sci-fi.

8. How do you feel about the term "chick lit"?

I don't get too hung up on it – it's a marketing term the same as lad lit or mum lit. There are a lot of men who read my books, especially the Emma Louise Jordan range. I'm proud to say I write books about women, for women and if men want to read them too, all the better!

9. Do you think there will always be a market for chick lit, and what do you see happening in the chick-lit genre over the next few years?

I think it's time some of the new names were pushed to the forefront of chick lit. There are hundreds of fantastic female writers who find it hard to find their place in the market because the big names are so brand heavy now.

10. What do you think is the biggest challenge a chick lit writer faces?

Competition and marketing support. With so many authors now writing under the genre, it can be difficult to stand out from the crowd. However, I believe that with real talent and the right publisher and agent behind you, there still is room for a new big name out there.

11. What do you know now that you wish you'd known when you started writing?

I would like to have known more about the business side of publishing - just how big a world it really is. There is a lot of competition, a lot of money pumped into marketing and branding by the powers that be and sometimes as a newcomer it can be very overwhelming. But writing and having books published is a dream come true for me and I'm delighted with my journey so far. To be part of Poolbeg Press is an honour and I look forward to a bright future as a novelist.

12. What are you working on at the moment?

I have recently finished the edits of The Truth Between (an Emma Louise Jordan book which tells the story of the aftermath of suicide), and am now editing Since You've Been Gone – my next Emma Heatherington romantic comedy in which television presenter Erin O'Brien finds herself with only a bottle of wine for company when her gorgeous boyfriend Taylor heads for Hollywood. Both books will be released later this summer.
---
---