EMMA COOPER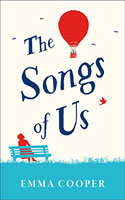 The Songs of Us (2018)
After hitting her head in a fall, Melody can't help but break into song whenever she is feeling stressed. The inexplicable condition has her belting out song-and-dance numbers at school interviews, on trains, in supermarket queues. And it often keeps her two children, Flynn and Rose, up at night. To make matters worse, her husband Dev has disappeared without a trace. When Rose spots an online report about a man who could be her dad, the trio head off to find some answers.
The involuntarily singing concept makes for a great story and I couldn't wait to read this book after seeing its blurb. Melody is a quirky character and her story builds through the issues faced by her two children and the mystery of what happened to Dev.
However about halfway through, the storyline got bogged down going over the same problems, causing me to start skipping passages just to get to the end. And this obviously affected the impact of the powerful conclusion. Many of you will love this book – and rightly so because it's a well-written, endearing story – but it fell short of making me want to sing its praises.