EMILY GIFFIN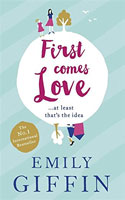 First Comes Love (2016)
Josie and Meredith are sisters but they are completely different: Josie is outgoing, spontaneous and self-centred while Meredith is introvert but controlling. Josie is a first-grade teacher who is trying to get over the fact that her ex-boyfriend's daughter is in her class and is looking for the man who will give her a baby of her own. Meredith is an acting student turned part-time lawyer and part-time mother whose marriage is not so perfect. The only thing they have in common is how their brother's death 15 years earlier still has consequences in their lives. Guilt and secrets have influenced their last 15 years and they are now coming to light.
It's mostly a story of "what if", wondering what their lives would be like if their brother hadn't died. It's also a story of family, love, marriage and motherhood. And it's a story of friendship. My favourite character is Gabe, Josie's best friend. I loved his witty remarks and his loyalty to Josie. The narrative is from Josie and Meredith's points of view and I couldn't put the book down as I switched from one perspective to the other. Emily Giffin has again included characters from a previous novel - Meredith's friends Ellen and Andy were from Love The One You're With and I was happy to read how their story continued. I have read and loved all Emily Giffin's books and this one is no different. A brilliant, captivating and humorous read. (NP)

---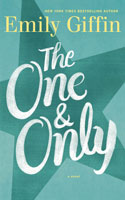 The One & Only (2014)
Shea Rigsby is an American football fanatic and one of the biggest supporters of the Walker high school football team in Texas. After the death of a close family friend, Shea starts to re-assess different areas of her life because she realises that "life is short". She then embarks on some life changes in her career and begins her quest to find love. She thinks the changes are for the better, but as time goes on, she wonders if everyone and everything is as it seems.
I really enjoyed this book! Shea's whole life is consumed by football, a little on the extreme side if you ask me. She practically worships the high school coach, Clive Carr, and some of the guys who went professional she's known since high school. I liked Shea's character, although I have to question some of her choices. This book is about family, friends, loyalty and love and there were many twists that made it interesting with a surprising ending. (KARM)

---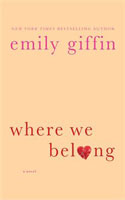 Where We Belong (2012)
Marian Caldwell has the perfect life. She is an executive producer for a hit television show in New York and she has the perfect boyfriend in Peter. Everything is going great except she is ready to get married and have kids but Peter is questioning getting married again after he has just divorced. One night Marian opens her door to find 18-year-old Kirby who has always wondered who her real mother is. Marian had never told a soul that she had given her baby up for adoption when she was a teenager. So now both of them have to get to know one other, while Marian has to deal with telling everyone she has a child.
This is a heart-wrenching story on adoption and decisions that have to be made at a young age. (CG)

---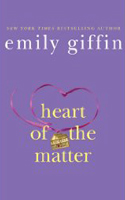 Heart of the Matter (2010)
Tessa is used to having her family time with husband Nick interrupted by his work as a paediatric plastic surgeon. One night, at their anniversary dinner, Nick is called away to treat a boy, Charlie, who's been scarred in an accident. Over time, as Nick becomes closer to Charlie's mother, single lawyer Valerie, Tessa can sense her husband withdrawing from her.
I have to admit my heart skipped a beat when Tessa's brother made an appearance. Unexpectedly it was Dex (from Something Borrowed/Something Blue), giving us an insight into how the result of a devastating affair plays out years later. But apart from the welcome blast from the past and some heart-warming moments between Valerie and her son, this tale about will-they-or-won't-they infidelity could have really been titled Something Old cos we've read it all before.
On paper, there was nothing wrong with the story, told in alternating chapters from both women's perspectives. It was well-written, moving in parts, and you didn't know for sure how it would all end. But the heart of the matter was the story and its characters just didn't captivate. I guess I was expecting Something Special - and was disappointed not to have got it.

---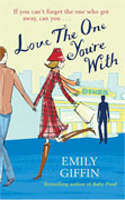 Love the One You're With (2008)
Ellen is still in her first year of marriage to lawyer Andy when she bumps into her ex-boyfriend Leo on a busy New York street. It's the first time she's seen him since he left her heartbroken without explanation. And despite her best intentions that it's safer to keep Leo out of her life, he sets her up with a photographer's assignment of a lifetime - shooting a magazine cover of superstar Drake Watters in LA. As Ellen becomes increasingly preoccupied with the one that got away, she wonders whether she is meant to settle for a privileged yet suburban life in Atlanta with Andy, her best friend's brother.

---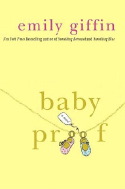 Baby Proof (2006)
What happens when he wants a baby but she doesn't . . . Claudia Parr and her husband Ben agreed to be childfree. But then Ben changes his mind and moves out. As her sisters and best friend face challenges which show how motherhood affects relationships, Claudia must decide what she wants most in life.

---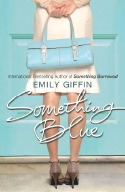 Something Blue (2005)
In the sequel to Something Borrowed, Darcy Rhone's charmed life is shattered after she loses her fiancé, Dex, to her ex-best friend. Unwilling to be alone, she moves in with Dex's best friend Marcus but they soon break up. Darcy, who then discovers she's pregnant, heads to London to stay with a school friend, Ethan, while she tries to put her life back together.

---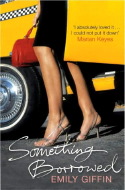 Something Borrowed (2004)
Attorney Rachel White has always been the consummate good girl - until her 30th birthday. After too many drinks, she ends up in bed with her best friend's fiancé, Dex. They then continue their secret relationship as his wedding to Darcy approaches. What best friend would ever do that? But there's always two sides to every story: Rachel has always lived in the shadow of her often selfish best friend. Darcy has effortlessly breezed through life getting exactly what she wants, while Rachel's just had to watch from the sidelines. Rachel needs to decide what is more important - friendship or true love. Giffin writes from both friends' perspectives - Rachel then Darcy's - in a book that tops the favourites list for many chicklit readers.