ELLA DOVE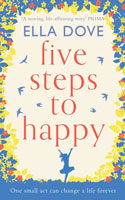 Five Steps to Happy (2019)
Aspiring actress Heidi is jogging along a canal path when she falls and dislocates her knee. A man with her at the time rings for an ambulance but then takes off despite her screams of agony. Because the injury affected the blood supply to her leg, she has to have it amputated below the knee. So Heidi has to learn to walk again with a prosthetic leg and regain her independence.
Meanwhile the consequences of her accident are affecting her loved ones too, with her sister desperate for her to be well enough to walk down the aisle, her dad putting off his retirement and her flatmate delaying moving in with his boyfriend. Meanwhile, Heidi becomes friendly with Jack, the grandson of the elderly lady she shares a room with at the rehab centre.
Based on the author's own true story, this story packs a punch emotionally as Heidi learns to come to terms with her disability. It's an inspiring debut about a life-changing event.