DONNA HAY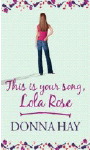 This is Your Song, Lola Rose (2008)
On the day she buries the man who had made her life a misery, Lola discovers he was not her father. Instead she was the result of a backstage fling between her mother and Rick Wild, who has gone on to become a rock god. Despite not exactly enjoying a joyful reunion with her long-lost dad, Lola leaves behind her policing job and England to go on tour in America with his band Poleaxe. But will she survive life on the road with an overindulged rock star, a jealous wife, a crazed fan and her half-siblings, spoilt Tiffany and resentful Jay? Unlikely to be a hit.

The Two Mrs Robinsons (2007)
Anna lives with restaurateur Oliver Robinson and their young son Charlie. But he still hasn't divorced his wife Eve, mother of his two teenage children, and she still continually hovers in their lives. For Eve still hasn't gotten over the love of her life. Then Oliver dies suddenly and the women are left to sort out his affairs. But they can't seem to agree on anything - Eve takes over the restaurant while Anna thinks they should sell it. Then they discover Oliver was heavily in debt and there's a lot more at stake. Can they forge a truce or be driven even further apart?

---
Also by author:


No Place for a Woman



Goodbye Ruby Tuesday



Some Kind of Hero



Such a Perfect Sister



Kiss and Tell



Waiting in the Wings

---