INTERVIEW
December 2011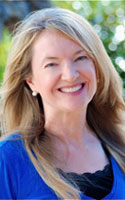 DEE DETARSIO
Dee DeTarsio is the author of three novels, The Scent of Jade, The Kitchen Shrink and has just released her latest, Ros. She is a television writer, living in southern California. Her website is deedetarsio.wordpress.com/blog/. (Interview by Cindy Funk)
1. How did you come up with the ideas behind your books The Scent of Jade, and The Kitchen Shrink?

My husband, who has earned his title of beditor, once complained that "women sure do think a lot". That's right, we do. Live and learn hombres. The Scent of Jade came from his suggestion/challenge to make women's fiction a little more adventurous. So I began with a "what-if" scenario (a woman on a resort vacation, what could possibly go wrong?) that grew into a Romancing the Stone (awesome movie) meets Survivor (amazing reality show!). I hate camping, I'm scared of the dark, I like my belly full, thank you, and my coffee hot, so I tried to make Julie as uncomfortable as possible. There is a jade stone that has been in my husband's family for years - go figure. It does not have a carved face but it is a beautiful, heavy piece of jade, that I have carted around forever. I never realized how superstitious I really am - it would be so cool if it had some magical power! (It's the jade in the video. (Side note: I am working on the screenplay, which is also a great writing exercise! Screenplays, at 120 pages, are less than half the page count of a traditional novel, so the importance of every word, nuance and action is magnified.) The Kitchen Shrink, (if your life's a mess, your house could probably use a makeover, too...) takes place behind-the-scenes and in front of the cameras of a reality TV show. I love DIY shows, (though at my house, my grandiose plans always lose something in the execution!) and I thought it would be fun to have a vulnerable character walking that tight-rope of life, on television.

2. What are you currently working on?

Ros. 'Twill be a tough sell but I love her. Stay tuned!

3. What inspired you to become a writer?

Remember those aptitude tests in sixth grade? I was supposed to be a farmer's wife.

4. When you're not writing, what do you like to do?

When I'm not writing, I love to read, drink coffee, lambast myself for not writing, and lament that I'm not as talented as the writer of whichever book I'm currently reading.

5. Technology is changing the writing industry, what are your thoughts on e-readers and self-publishing?

I want to marry my Kindle! I've actually been to third base with it! (It's not what you think, just a little juggling accident involving a super long-stemmed glass of red wine and a Snickers Peanut Butter bar.) Viva la digital revolucion!

6. What was it like transitioning from TV writer, to author?

Writing for television is writing for "tell a vision". TV writers and producers are the authors of suspense: amping up the conflict and drama. "Storytelling" a vision invites the audience, through whatever medium, to stay tuned for the good stuff ... coming up. TV writing (especially with deadlines) is the perfect boot camp for writing novels!

7. Best and worst part of being an author.

Best part: I can read All The Time because it is research for "my craft".
Worst part: Actually using the words "my craft" without adding macaroni and cheese.

8. What are some of your favourite chick lit books?

I am stalking Marian Keyes. She's a Virgo, I'm a Virgo. She's a successful internationally recognized goddess of an author, and I ... well, I've read everything she's ever written. I expect we would be best friends. Her most excellent Ms. Keyes is from Ireland - I love the color green. From her first book, Watermelon, (my seventh favorite fruit) to Sushi For Beginners (I'm only up to California rolls myself!) to Anybody Out There ... I have loved, read, and reread every word.

In case I am ever fortunate enough to meet her, (I will be the one wearing my skinny jeans that look brand-new on account I don't get to wear them that often, with a fancy top that covers all the right places. I think a dress would be too-too), I'm even practising what I would say. I have been working on "Top of the morning," as an icebreaker. I am such a gobshite. Goddess Marian Keyes (pictured top) ... and her doppelganger, my sister, Beezer!

9. Do you see yourself writing more short stories like 'Til Somebody Loves You?

I had so much fun with 'Til Somebody Loves You - and I do have a couple more short stories, including a historical fiction called Dawn's Early Light - complete with a flirtation with Thomas Jefferson!

10. Do you have any advice for aspiring writers?

Read for pleasure. Reread for what you missed the first time around. Remember the stories and styles that spark your passion.

11. Where do you see yourself in five years?

Me and my best friend, Marian, walk into a bookstore...
---
---