INTERVIEW
October 2014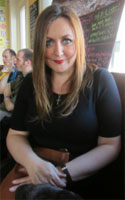 DEBBIE JOHNSON
Debbie Johnson is the author of Cold Feet at Christmas. She lives in Liverpool, where she divides her time between writing and caring for a small tribe of children and animals. She also writes fantasy and crime. (Interview by Jade Craddock)
1. Tell us about Cold Feet at Christmas?

It's a very sweet, very funny story about what happens when the best day of your life turns into the worst. Leah is due to have a fairytale Christmas wedding in a romantic Scottish castle – but instead, discovers her fiance playing 'hide the sausage' with one of the bridesmaids before the ceremony. Understandably enough she runs away – and ends up stranded in a remote patch of countryside in the worst snow blizzard she's ever seen. She manages to stagger to a nearby cottage, where – in her fraught physical and emotional state – she finds a man so handsome she is convinced she's died and gone to heaven! The man in question is Rob, hiding from his family and the bitter memories that Christmas holds for him, and he has problems of his own. The story is about what happens when everything in life seems to go wrong – but in a strange way, starts to go right...

2. How would you describe your heroine Leah Harvey?

Leah is wonderful – she's almost real in my head! So far several of the reviews I've had have focused on her rather than the hero, which I take as a huge compliment! She's smart, funny, and always optimistic no matter what life throws at her – something I wish was stronger in my own character! She also has no filter control between what she thinks and what she says, which is often hilarious. She thinks it, she says it!

3. What are the pros and cons of writing a Christmas-based story?

The pros are that it's Christmas – which I love! It's such a fabulous time of year for a story – heightened emotions, potential for drama, plus the fact that we all need a little festive escapism! The gorgeous Christmassy cover also seems to have caught people's imaginations, and appealed to readers. I suppose the cons are all commercial: it's a crowded market, plus it will have a short shelf life!

4. If you could give one reason why readers should read Cold Feet at Christmas what would it be?

It will make you feel good – real life is sometimes short on happy endings, on humour, on tremendously hot sex! This is pure escapism, featuring a woman we can all identify with, and a man we can all fall a little bit in love with.

5. Being being an author, you were a music reviewer interviewing icons such as Paul McCartney and Bryan Ferry. How does being an author compare?

Obviously being a journalist and being an author both involve a lot of screen time – but in all honesty that's where the similarity ends. Journalism – especially the job you mention above – is by its nature very sociable and vast amounts of fun. A newsroom is just the best, most hilarious and thought-provoking environment, and I loved every minute of it. Being an author is much more solitary, more intense, but also in its own way a lot of fun – you get to disappear into the dark recesses of your imagination and create something that will hopefully make people happy, or make them cry, or make them feel. I do miss going to the pub with my mates though!

6. As a former reviewer (albeit of music), how does it feel to be the one being reviewed and what do you hope for in a review?

Terrifying! I always tried to be a kind reviewer – if I really hated something I wouldn't write about it; I was always conscious of the fact that what I did gave me an element of power over people's lives and emotions, and I needed to use that responsibly. Now having been on the receiving end, I can only hope that karma comes into play! On the plus side it is lovely to read a good review where you feel you've made a difference to someone's day. On the down side, you do feel kind of helpless if you feel you're being unfairly savaged! Not that that's happened with Cold Feet as yet, but the law of averages being what it is ... in terms of what I hope for, obviously you want people to love it. But I will most definitely settle for fair, and for constructive criticism that might make the next book better.

7. You've got a busy couple of months with two books released in two months, how has it been juggling these two very different projects?

Can I use the word 'terrifying' again?? Cold Feet At Christmas is a feel-good chick lit, and Fear No Evil is a gritty supernatural crime thriller – and behind the scenes I've also been working on completing the follow up to my urban fantasy, Dark Vision, which came out on Del Rey UK earlier this year. The follow-up, Dark Touch, is out in spring, and I had to get the edits finished on that as well. So essentially I was working on three books in three different genres at the same time. As well as my 'normal' writing work, family life, etc etc – I'd often turn up on the school run in a very dishevelled state!

8. Cold Feet at Christmas is more romantic fiction and Fear no Evil is more crime/supernatural fiction. Although both with your inimitable style and wit, what draws you to each genre and do you have a preference?

First of all, thank you kindly for the compliment! I'm not sure 'inimitable style and wit' is how my family would describe when I'm in the middle of it all! I am in the very strange position of writing in different genres – there is also the urban fantasy, which is also pretty funny! – which is unusual these days. It stems from the fact that I read all those genres – I hate how people are shoe-horned into one style, as my brain tends to go off in all kinds of different directions! I've been reading romance since I was far too young – I swear Mills & Boon are responsible for a lot of disappointment in real life! – and I think it appeals because of the escapism, the opportunity to explore heartbreak and pain and then heal it all with a happy ending. But I also love crime fiction, especially lady sleuths like VI Warshawski and Kinsey Millhone, and desperately wanted to write that too – albeit with a supernatural twist, and with a very strong female lead. You can't ask me to choose between them – that would be like asking me to choose my favourite child! They all, however, have a few things in common: great female lead characters, and humour. There has to be humour!

9. A lot of authors get pushed into one genre or another and stay there, but from the outset you're establishing yourself in both genres. Is it important to you not to get pigeonholed?

In some ways my genre-hopping was accidental. The timeline is roughly this: in 2010, I won the Harry Bowling Prize for Fear No Evil (crime), but had also started writing women's fiction. While I was busy trying to get those published, I had a great idea for an urban fantasy – Charlaine Harris style, but all set in modern day Liverpool, which is a great and unusual setting. Strangely, even though that was the last book I wrote, it was the first to get published, as Dark Vision. Then, like buses, the rest all came at once – HarperImpulse for the romances, and Maze (part of Avon) for the crime. I have no idea how it is all going to work out – perhaps if one is a clear 'winner' with readers I will have more of a clue! Maybe I should start on a western, or a spy thriller, so I can complete my game of Fiction Genre Top Trumps! It all makes keeping a website and social media up to date very tricky, I tell you!

10. What authors have inspired you as a writer?

Oh so many! As a child, Enid Blyton, and Dodie Smith – I actually copied out 101 Dalmatians word for word in an exercise book (yes, I was that sad!). As an adult, the likes of Sue Grafton, Sara Paretsky, James Lee Burke, John Connolly, Charlaine Harris, and my all-time writing idol, Norah Roberts/JD Robb.

11. What has been the biggest challenge for you as a new author?

Getting to grips with the non-writing side – the promotion, the social media, the marketing. The writing is just fun compared to that – but there's no point writing books if nobody is going to read them!

12. What have you been most excited about on your journey to publication?

I think the sheer thrill of getting a phone call from my agent saying 'yes, they want it' is unsurpassed. It is a brilliant feeling when someone else shares your enthusiasm for a project you've put your heart and soul into. Fear No Evil, in particular, took a while to find a home – and hearing such kind words from my editor at Maze, realising that she 'got' it, was fantastic.

13. Are there any other romantic fiction works in the pipeline?

Definitely – HarperImpulse already have the next one lined up. At the moment it's called Heart in Hiding, but I am pretty sure that will change. It's about a young woman who lives in a remote farm in Cornwall, struggling to cope with raising a rag-tag gang of siblings, and putting her own life on hold to do it – and what happens when a man with his own set of issues walks into her life. It's very summery, set in such a beautiful place, and again I hope features a fab, funny heroine.

14. And finally what are you looking forward to most this Christmas?

I have three children, aged 7, 9 and 17, and having kids just makes Christmas awesome. I get so excited on Christmas Eve, sneaking up and down the stairs and arranging the presents under the tree. The looks on their faces in the morning is just priceless! Even though Leah in Cold Feet has the time of her life at Christmas, I wouldn't ever swap mine for hers!
---
---