DEBBIE CARBIN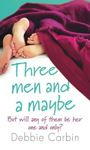 Three Men and a Maybe (2009)
Beth spends her days waiting for the reappearance of the unrequited love of her life, Richard - even rehearsing how she will look when he walks back into her life. Richard, the boss at her training company, is currently in Portugal, in the arms of his girlfriend. With her friend Vini pushing her to find a new man, Beth goes along to speed dating where she meets nice guy Brad. Meanwhile Beth is forming an email attachment to millionaire Rupert, the Horizon Holidays chief she is wooing for a training contract. And then there's Sean, her shifty colleague who's had his eye on her since she turned blonde and the company announced it needed some new contracts - fast. Suddenly Beth is juggling more men than she can handle. This is another hilarious novel from one of the most promising new authors. Stick with it as it becomes more of a page-turner the further you get into it. Even working out the twist before it is revealed - there are lots of clues - doesn't ruin the story. Watch out for the connections to Carbin's debut novel Thanks for Nothing, Nick Maxwell. Its heroine Rachel worked for Horizon Holidays and was the mobile phone woman Rupert's friend, Hector, is talking about.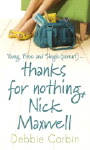 Thanks for Nothing, Nick Maxwell (2008)
Twenty-five-year-old Rachel has an affair with a work colleague, Nick, without knowing that he's only 19 years old and still lives with his mum. She later discovers she's pregnant. And the first person she tells is a stranger whose mobile phone she found. Hector turns out to be the brother-in-law of her best friend and becomes an important stabiliser in her life as she decides whether she's ready to bring a baby into the world. Rachel starts out as a self-centred, vain and shallow character, but she'll definitely grow on you as one of chick lit's favourite heroines. It has also been written in a first-person conversational style with a quirky way of switching to scenes involving others. A top debut.

---
---