INTERVIEW
March 2011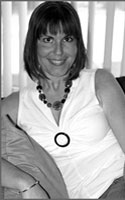 D.D. SCOTT
D.D. Scott's Buckles Me Baby is the final story in the Bootscootin' series. Her first novels Bootscootin' Blahniks and Stompin' on Stetsons were released last year. She has had various careers including paralegal, human resources manager, crime reporter and publishing executive assistant. (Interview by Jencey Gortney)
1. What inspired you to write Buckles Me Baby?

Buckles Me Baby came from my curiosity of how a person – let alone a very, very pregnant one – can live through a paparazzi nightmare stemming from crimes she didn't commit … but because of who her father is, crimes she's now forced into the spotlight to defend to prove her innocence and protect the people she loves. It came from this fabulously intriguing "what if"...What If Bernard Madoff had a daughter, who unlike his sons, had nothing at all to do with his Ponzi-scheming world but was forced to deal with the fall-out?

2. What made you decide to write a book about the rise to fame and the problems caused within a relationship?

So yeah … carrying that "what if" further … What if this woman was forced into the media-hounding paparazzi world, because of her past, while struggling with a new and unplanned pregnancy with a man who loves her more than anything but is a way beyond private person?

3. What is your biggest fear?

My biggest fear … hmmm … great but tougher-than-tough to answer … but here it goes … My biggest fear is not making my readers happy. That's it. That's all I care about as far as my writing-for-publication career. It's not the money. It's not the bestseller lists. It's about treating my readers to a fabulous book for a fabulous price.

4. When did you decide that writing is definitely your destiny?

Ahhh … finally an easy question … LOL! I knew writing was my destiny in fifth grade, after winning my local Young Authors' Contest with my epic romantic comedy "When Charlie Brown Fell in Love with Lucy". Oh, and I illustrated that fabulous little gem of a book too!

5. What does your husband think of your writing?

My DH (Darling Husband) is the hero I used to think only existed between the pages of all the world's romance novels. One caveat, he did not rescue me on a white horse. He saved me in his Sheriff's Department–issued SUV as he's a 27-year veteran of our Sheriff's Department (now a Captain and our County Jail Commander). I used to be our local newspaper's crime reporter … and he was my "source". LOL! No joke, though, he really was one of my go-to sources for all the scoops. In fact, my nickname was Scoop. And now, he's my chief research assistant and biggest fan too!!!

6. Are you able to draw from your various job experiences in your writing?

Ohhh yeahhh. Lol!!! Life as a Paralegal … then HR Manager … then Crime Reporter … then Big Six Publisher Gopher … no one would ever believe my stories are based on real-life stuff. It all sounds way too outrageous. But I do change the names to protect the guilty.

7. What influence does the country theme have on the chick literature genre?

I'm a huge Sex and The City, all-things-Chick Lit kinda gal. But again another fabulous "what if"… What If Carrie Bradshaw was actually a closet bootscooter? And What If Music City (Nashville TN) was the new Manhattan? With a twist, 'cause in Music City, it's all about large tomatoes - not big apples.

8. What are you currently working on?

My romantic comedies with a chick lit gone-country twist - The Bootscootin' Books Series – are now gettin' Cozy … as in Cozy Mystery Cozy. That's right. I'm takin' my funtabulously quirky Bootscootin' characters into my new Cozy Cash Mysteries which debut this May (on Kindle and Smashwords) with book one Thug Guard. I'll then have two more Cozy Cash Mysteries this year as well as a Cozy Cash Christmas Novella in The Naked Hero's first-ever Christmas Anthology!

9. What authors and books have influenced your writing?

Wow … another big 'ole tough one. Candace Bushnell. Jennifer Weiner's Good in Bed. Jennifer Cruise. Janet Evanovich. Barbara Silkstone. Karen Cantwell. L.C. Evans. Heather Webber. Misa Ramirez. Tonya Kappes. And as for the writer's journey part of my career: Julia Cameron's The Artist's Way and my very own Muse Therapy: Unleashing Your Inner Sybil (LOL … yes, I'm a writer's go-to Muse "Therapist" … but I'm a therapist who sooo uses and remains partially sane via using my own "therapy".)

10. What book are you most interested in reading this year?

Everything written by the fabulous John Locke! I just downloaded all six of his books to my Kindle!!!

11. What is the best advice you would give about writing?

You've got to rein in and reign over your creative divas … and to hell with what other people tell you is "right" or "wrong". It's all about what works for you and your muses and makes y'all dance across your pages like nobody's watching.

12. What is your favourite ...

Music: Van Halen, Bon Jovi, Tim McGraw, Michael Buble (yeah … a tad eclectic regarding my music … LOL!), Celine Dion, this new Pia Toscano on American Idol this season (damn, what a voice!)
Movie: When Harry met Sally
Hobby: Reading and painting
Book: Totally can't pick - it changes every new author I discover
Vacation: Bootscootin' with my DH at The Wildhorse Saloon in Nashville TN! I do a mean, mean grapevine, Y'All!!!
---
---