DAWN FRENCH
Because of You (2020)
This story opens at the start of the new millennium with two women, Anna and Hope, in labour but only one of the mothers will return home with a baby. Anna is married to an ambitious politician who is looking for the perfect family to boost his career, while Hope is a cleaner dating an African student.
That is about all I am willing to tell you about this magnificent story because anything else will ruin the journey for you.

---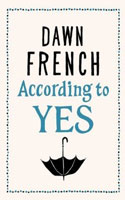 According to Yes (2015)
Glenn Wilder-Bingham is very much the matriarch of her all-male family – husband Thomas, son Kemble and grandsons, 18-year-old Teddy and eight-year-old twins Three and Red. Under her rule, there is a strict and proper order to what is acceptable and what is not and no one defies her.
Enter Rosie Kitto, a bubbly, eccentric British primary school teacher who is leaving behind her past to kickstart a new life in New York as the twins' nanny and who has absolutely no appreciation for Glenn's rules. But even Rosie couldn't have imagined just how much she's going to turn all of the Wilder-Binghams' lives upside down.
Although the novel is like Rosie herself a bit left of centre, with some downright questionable episodes, I finished it with a huge smile on my face and an implicit sense of hope. It's a warming, hopeful novel if with some grit and complications. We do come into Rosie's story partway through and there are some questions over her past that remain unanswered.
Indeed, whilst the novel is split into Acts 1 through 3, it's as if we're seeing the middle three acts of a five-part play, with the first and last acts missing. But in fact it isn't that much of an issue and we have the most significant parts present.
The first part for me was slightly too uneventful with Rosie becoming a fixture in the family overnight and usurping Glenn in the blink of an eye. Her various relationships may also raise eyebrows but what I like about French is that she's an audacious and surprising writer, offering unexpected and distinctive narratives that set her work apart. And as well as her unpredictable plotting, it's the characters which define this novel.
Three and Red are simply adorable and you can't help but smile at their and Rosie's antics and as for Rosie herself, well, imagine a feisty, potty-mouthed Mary Poppins and you're getting there. If you can get past Rosie's sexual misdemeanours, you may just find this to be a treat. (JC)

---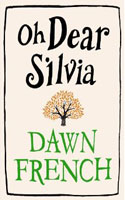 Oh Dear Silvia (2012)
Silvia Shute lies in a coma in suite number five. One by one her friends and family visit, each with their own complicated relationship to Silvia and as they talk to her, the story begins to unravel.
Firstly, there's Ed, her estranged husband, who struggled to come to terms with Silvia leaving him and their two children but has begun to find solace in nature and his granddaughter Willow.
Then there's Jo, Silvia's older and rather eccentric sister, whose unconventional attempts to wake Silvia underscore her pressing need to protect her sister but also her sibling inferiority complex.
There's Cat who has been through a lot with Silvia; and Tia, Silvia's cleaner, who relies on her job to support her family, as well as Winnie, Silvia's nurse. And finally there are her children, Cassie and Jamie, who have never understood why their mother walked out on them.
With a main protagonist who is in a coma throughout and several dark secrets that emerge, this is not typical chick lit and whilst French weaves comic relief, mainly in the form of Tia, the thread is quite morbid and morose. However, despite the novel not fitting the romantic or uplifting billing of chick lit, it is a wonderfully imagined and depicted family drama. It's an amazing feat of plot and innovation that is worth a read. (JC)

---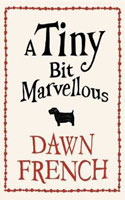 A Tiny Bit Marvellous (2010)
Mo Battle is about to turn 50 and is starting to look like her mother. Despite being a child psychologist, she has a battle on her hands trying to understand her teen children.
Seventeen-year-old Dora is, like, recovering from being dumped and is pinning all her hopes on making it through X-Factor auditions. And eccentric Peter understands the importance of being Oscar - changing his name in honour of Oscar Wilde - and covets not only a smoking jacket but his mum's new intern.
With chapters alternating between the three Battle voices, this debut from the comic actress plays out at times like funny TV sketches (you can imagine French in the main role). There's plenty to enjoy if you like quirky characters and stories about chaotic family life.