MOVIE NIGHT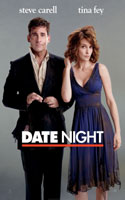 DATE NIGHT (2010)
Date Night is the perfect movie for couples who've been together a while, especially the married kind: those who can't seem to find time for each other anymore, whose work and kids consume them, whose sex life has fizzled, and maybe who are wondering if it's all worth it. In this entertaining romp, Phil and Claire Foster, played by Tina Fey and Steve Carell, are a couple trying to convince themselves that having one date night a week, to get away from the kids, go out to dinner, and maybe even have sex afterwards if they aren't too worn out, is enough to keep their marriage fresh. Fey and Carell were born to be comic partners; the chemistry between them is golden.
In an attempt to spice up that night out, they decide to go the extra mile - all the way from the suburbs into New York City. Claire puts on a sexy dress and high heels and suggests the newest, chicest restaurant in Manhattan for dinner. (Spoiler alert here - though the surprises aren't really big enough to warrant one.) Naturally, when the Fosters get to the restaurant, there are no tables and the maitre d' sneers at their un-hipness. While waiting at the bar, listening to the hostess calling the names of parties to their tables, the couple realises that "the Triplehorns" haven't shown up. They assume the name and claim the table. Halfway into the meal, Claire and Phil are interrupted by a pair of thugs who mistake them for the actual Triplehorns and haul them outside for a reckoning. We come to understand that these erstwhile Triplehorn people have wronged some gangster boss by holding out on a flash-drive that he wants. When the Fosters manage to get away from the thugs, they realise that they won't be safe, nor will their children at home, unless they locate the flash-drive. Their endeavour to involve the police is thwarted when they see that the bad guys are actually dirty cops.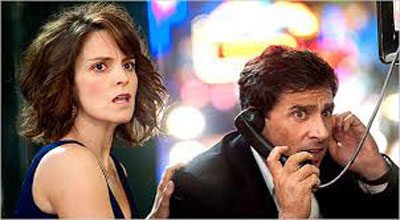 The plot is not a very complex one, nor very plausible, but director Shawn Levy did himself a huge favour by casting the incredible talents of Fey and Carell in the lead roles. They help make the script, written by Josh Klausner, extraordinarily funny. Fey and Carell were born to be comic partners; the chemistry between them is golden. And as an added bonus, the film may strike a hopeful chord with people who feel like they are drowning in the rut of their life and their relationship. In the midst of the dangerous predicament, the Fosters find moments to talk about their conjugal fears: they don't listen to each other anymore, they're losing their connection. They see their friends breaking up and it scares them. Phil also sees that Claire is attracted to a client of hers, a guy named Holbrooke, played by a gorgeous, shirtless Mark Wahlberg, whom they go to during the course of the night for help. Another wake-up call comes when Claire and Phil meet a crazy young couple, played brilliantly by Mila Kunis and James Franco, whose dysfunctional passion shows the Fosters that their own love lives are missing that lustful spark. Finally, they both manage to muster a level of bravery and smarts that make each see the other in a whole new light. The night of danger and action rekindles the flames of their desire. As you may have guessed, this is as much action movie as romantic comedy - emphasis on the comedy - but so much the better. You can watch it with the boyfriend or the hubby and he won't feel coerced into sitting through a chick flick. It's truly as much fun for the guys as the girls. Make it a part of your next date night. It might inspire the two of you to get out of your rut and do something just a little bit crazy.

Movie reviewed by Georgina Young-Ellis
---
---