CURTIS SITTENFELD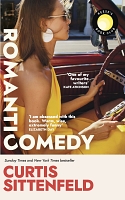 Romantic Comedy (2023)
Sally is a screenwriter for late-night comedy show The Night Owls (like Saturday Night Live). With one of her fellow writers Danny dating an actress Annabel, she proposes a skit about average-looking, no-name guys dating beautiful famous women.
The week's host is singer Noah and he asks for Sally's help on a skit he has devised. But the Danny Horst Rule never works in reverse, right? A superstar like Noah would never be interested in dating someone like her…?
This story opens in 2018, followed by a section of penpal-like emails in the middle, and closes during the pandemic. I really enjoyed the detailed behind-the-scenes as the show prepared to go to air, and the email exchanges that gave more insight into their pasts and character. But things faded a bit in the third act. The main thing to note is, despite its title, it's not really a rom-com.

---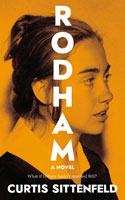 Rodham (2020)
This novel creates an alternate universe where Hillary Rodham never married Bill Clinton and the repercussions this has on their political futures and subsequent presidential races. The story starts with Hillary giving a spirited address at college, before she meets Bill at Yale law school in the early 1970s.
I really enjoyed this book which gives readers a sliding-doors glimpse into a road that Hillary could have taken. She is portrayed as a smart, ambitious woman who nevertheless lacks confidence about her appearance, while Bill is portrayed as a charismatic Southerner with political aspirations and a sex addiction.
The story ends with the 2016 presidential race where Donald Trump makes an appearance but fortunately it all wraps up with a much better resolution than real life!

---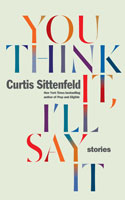 You Think It, I'll Say It (2018)
This is a collection of ten short stories about how we often judge people too quickly. The characters judge other people and it soon turns out they were mistaken. In one story, a woman in love with her husband's colleague thinks he loves her, too. In another, a woman on her honeymoon meets someone from her past. Two former classmates meet twenty-five years later and reminisce about their school days.
A woman finds out that a new celebrity is the same girl she had a fling with during summer camp. A shy student idolises one of her college friends only to find out that she is nothing special. But my favourite is "Off The Record" in which a single mother and freelance journalist interviews an actress who is about to win an Oscar - someone she had met a few years earlier when she was just starting her career.
I became a fan of Curtis Sittenfeld when I first read American Wife and I loved Eligible, her modern retelling of Pride and Prejudice, so I have been really looking forward to this collection of stories. Her writing style is so distinctive and so good that I could easily visualise each scene. The characters are realistic and flawed but their stories are immersive. There is a lot of nostalgia for the past, the characters contemplating what they could have done differently. I loved each of these sharp and enthralling stories, some more than others, but I never wanted them to end. (NP)

---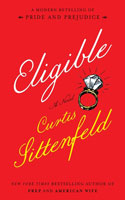 Eligible (2016)
Set between Cincinnati, New York and California, Eligible is a modern version of Jane Austen's Pride and Prejudice: Lizzie Bennet is a journalist in her late thirties living in New York while Fitzpatrick Darcy is a renowned neurosurgeon who lives in Cincinnati. Lizzie and her sister Jane, who works as a yoga teacher, go back home to Cincinnati following their father's heart attack and, during the 4th of July barbecue at the Lucases, they meet the handsome and reserved Darcy and his doctor friend Chip Bingley, who is experiencing his 15 minutes of fame after taking part in the Bachelor-like reality show, Eligible.
Almost all characters in Pride and Prejudice are present in this modern version of the novel: Mary Bennet is earning her third online master degree; Kitty and Lydia are too busy with their CrossFit regimes to worry about finding a job; Mr Collins is replaced by pompous Cousin Willie, a tech genius; Jasper Wick is Mr Wickham, a married journalist with whom Lizzie has a relationship; Charlotte is an overweight manager; and Mr Bennet is the same ironic and sarcastic character of the original novel.
As a huge Pride and Prejudice fan, I was really looking forward to reading Eligible and I wasn't disappointed: it is humorous, romantic, entertaining. With Sittenfeld the fourth author to update an Austen classic as part of the Austen Project, Eligible is a real page-turner and although I knew how it would end, I couldn't put it down. (NP)