MOVIE NIGHT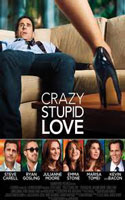 CRAZY, STUPID, LOVE (2011)
It's been a long time since I've seen a movie so good I could not find any flaws in it; or enjoyed a film so touching and entertaining I wasn't even aware of time passing as I sat in the theatre. Such was my experience with Crazy, Stupid, Love. It is the story of Cal and Emily who, on their way to divorce, are both searching for a more exciting love life than the one they left. It is also the story of Jacob, a shallow but attractive young man who takes it upon himself to transform sad sack Cal, played by Steve Carell, and make him desirable to the opposite sex. And it's about Hannah, a smart young woman looking for a guy that's worthy of her. Not least of all, it is about Cal's and Emily's son Robbie, played by Jonah Bobo, (tiny spoiler alert) who is in love with his babysitter Jessica, played by Analeigh Tipton, who is in love with Cal. It is also a movie about redemption, and fighting for the person you love against all odds.
It is an aptly named piece of cinema because it illustrates so precisely how love makes everyone behave stupidly and crazily at some point in their lives. It is also a movie about redemption, and fighting for the person you love against all odds. This final point is one reason Crazy, Stupid, Love touched me so deeply. In some ways, it was very personal to me, a very near reflection of a story that was once mine. But whether you're middle-aged and married, or young and just starting down the road to commitment, it will speak to you. I would almost say it is also a film for the very young, such as Robbie's age of 13, or Jessica's of 17, because it truly portrays the pain of being in love for the first time and not having the object of your affection return those feelings. But I would say it is mostly a movie for people who have been there - who have experienced the heartbreaks and joy of true love. It is a surprising and original story with dialogue that is both funny and true to life.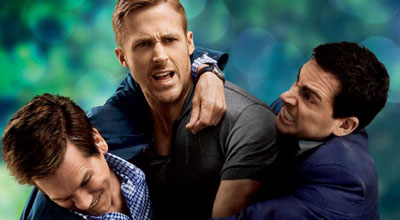 I never tire of watching Julianne Moore, who plays Emily, and her ability to fully share her emotional world with the audience. I also cannot get enough of Emma Stone (Hannah), whose ultra expressive face and wry way with humour never cease to entertain. Newcomer Jonah Bobo is an astonishing young actor, and Tipton (formerly on America's Next Top Model) will definitely be a rising star to watch. Ryan Gosling is excellent as Jacob and about as hot as you can get. So while there's plenty for the eye in Crazy, Stupid, Love, there's much more for the intellect and the heart. Yes, it's chock full of stars: Marisa Tomei, Kevin Bacon and Josh Groban round out the cast; as a matter of fact, what I expected was something along the lines of Love Actually: a fun movie, lots of big names, a few cliches. Not only is Crazy, Stupid, Love quite without cliches, but if one threatens to rear its ugly head, directors Glenn Ficarra and John Requa make no bones about pointing it out and laughing at it. The script was written by Dan Fogelman, known for kid flicks such as Cars, Tangled and Bolt. Well, Fogelman has certainly grown up with this latest film of his, and, unless I'm crazy, or just plain stupid, it is headed for some major awards come 2012.

Movie reviewed by Georgina Young-Ellis
---
---