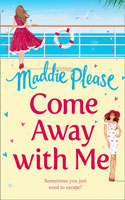 Maddie Please takes readers on a transatlantic cruise in her latest novel, Come Away With Me.
The summary says: "When Alexa Fisher finds herself trapped on a twelve-day cruise to celebrate her younger sister's hen-do - just the two of them - she wishes she'd jumped overboard.
Despite the age difference, India has always been the judgemental sibling, and there's been even more friction than usual since 'the big engagement'. With India constantly obsessing over wedding plans, Alexa has never felt more single, or more of a failure.
If only she could find a man who was funny, handsome and faithful. But when she meets the enigmatic (and *gorgeous*) Gabriel Frost on the cruise, he is as cold as his name suggests... Isn't he?
Set sail for an adventure on the high seas, it's time for Alexa to discover that sometimes romance can surprise you!" Come Away With Me is out in August 2018.
TEXT