INTERVIEW
June 2010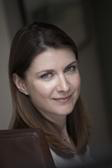 English author Chris Manby has just released her 14th novel, Getting Over Mr Right, changing her name to the more feminine Chrissie. Manby's other titles include Spa Wars, Crazy in Love and Flatmates. She also writes under the pseudonym Olivia Darling, including her 2010 release Temptation.
1. What inspired the story of Getting Over Mr Right?

How about two decades of bad dates and rotten relationships!

2. Why did you change your name from Chris to Chrissie?

I changed my name because an awful lot of people were under the impression that I was a bloke. Seriously. I think it's because Chris is androgynous and Manby starts with, well, 'man'.

3. Which of your characters are you most like?

I think I'm most like Lizzie Jordan, the heroine of my fourth book. I created her during a very happy period in my life and while she's disaster-prone, I hope her optimism comes through.

4. How have your novels changed over the years?

These days I hope my novels are more tightly plotted. I certainly spend more time making sure everything hangs together than I used to.

5. What are the crucial ingredients to a good rom-com?

A lovable heroine, a handsome hero and a suitably horrible baddy.

6. Is it true you once saw a psychic who said you'd write seven novels?

That's right. He was wrong! Getting Over Mr Right is my 14th book.

7. Has planning to get married given you any new story material?

I went to one wedding fair. It was frightening. Cup-cakes costing more than their weight in gold? Ten pounds to 'dress a chair' with a piece of raffia? Seriously? The wedding business is a cynical racket. There's definitely material there. For a horror story.

8. What are you working on now?

I'm working on a book called What I Did on my Holidays, which is about a romantic trip to Majorca that goes horribly, horribly wrong.

9. Would you ever consider a sequel to any of your recent novels?

How about 'Lizzie Jordan Becomes a Cougar'?

10. Any plans to bring your pseudonym Stephanie Ash out of retirement?

I don't think so. I always imagined Steph to be seventy years old as it was. I modelled her on Joan Collins. I suppose the voice I created for Stephanie Ash has become Olivia Darling. Olivia is a little more classy though!

11. Which other authors have inspired you?

I love American novelist Anne Tyler but my current writing crush is Elizabeth Gilbert, author of Eat, Pray, Love. Her books are great and she seems so warm when interviewed. I'd love for her to be my new best friend!

12. Have you ever been tempted to use a voodoo doll on anyone?

If only they worked...

13. What one invention from your lifetime would you least be able to live without now?

My TomTom. Boring but true. It's nice to have something to shout out on long journeys!
---
---