CHLOE JAMES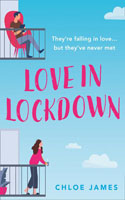 Love in Lockdown (2020)
This is perhaps the most fitting book to read as my final read of 2020. As the Covid pandemic has England in lockdown, Sophia goes out on her balcony to clap for the health workers. She gets chatting to Jack, the guy on the balcony above. He has kidney disease so has to shelter at home.
Sophia at least gets to go out, to her job teaching the children of essential workers, shopping for food, and for walks. Even though they have no idea what the other looks like, the pair develop a close bond, sharing items via a pulley system and creating special moments for the residents of their apartment block.
This is a lovely uplifting romance that illustrates a time in history none of us will ever forget.

---