MOVIE NIGHT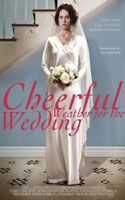 CHEERFUL WEATHER FOR THE WEDDING (2012)
Cheerful Weather for a Wedding is based on a British novel from 1932 by Julia Strachey so it makes sense that its producers might want to gear it towards Downton Abbey fans. It even starts with the ringing of the servant bells, just like in the opening sequence of every Downton episode. Okay, the house is smaller, but the servants are equally involved in every aspect of their employers' lives. Maybe it's just that anything set in Britain around that time seems Downton-esque to me. But the casting of Elizabeth McGovern as the mother of a pair of argumentative girls really proves my point because, of course, McGovern is the lady of the Abbey too. But it doesn't matter. The film stands on its own no matter what.
Maybe it's just that anything set in Britain around that time seems Downton-esque to me. Felicity Jones stars as troubled bride-to-be, Dolly, who, on the verge of taking her vows, can't get a handsome young man named Joseph, who isn't her groom, out of her mind. Joseph, played by Luke Treadaway, comes to the house on the wedding day, presumably to talk Dolly out of getting married, but can't get an audience with her, as relatives and servants stick their noses into her business and continue to complicate things. And as she sits in her room, drinking and procrastinating, she has flashbacks to the summer before when she and Joseph seemed to be falling in love. The more we see their relationship intensify, the more we wonder why she's marrying another man, one who will whisk her off to Argentina immediately after the wedding.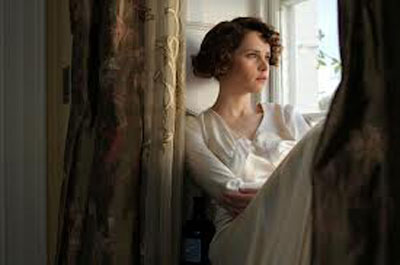 As a matter of fact, she and her rather boring, uppercrust groom seemed to have gotten engaged when they were in Albania together, just after her steamy summer spent with Joseph. Neither we, nor Joseph, can figure out why she's marrying the other guy, since neither she nor anyone else in the movie explains it. Was it her mother's choice? Is it his money? And as we and Joseph wait for her to change her mind, truly feeling she has to in order to be happy, she refuses to reveal her reasons. It's not until the very end of the film that the situation finally becomes clear and we are left with an ending entirely unlike the romantic ones we've come to expect in every movie of this ilk. For me, that's why Cheerful Weather for the Wedding succeeds. It keeps us guessing, it's unpredictable, and it's gorgeous. It's romantic too, but not in the usual way. Don't expect a Hollywood ending, or as much Downton drama, rather a very good and satisfying film.

Movie reviewed by Georgina Young-Ellis
---
---