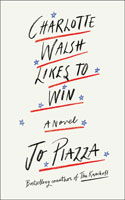 Charlotte Walsh Likes To Win – Jo Piazza (2018)
Twenty years ago, Charlotte Walsh left her hometown in Pennsylvania and promised herself she wouldn't go back. Now she is returning to live in her old house with her husband and their three daughters so that she can run for the Senate seat. She knew it wouldn't be easy but she didn't expect the dirty tricks of her misogynist opponent, the harsh attacks from the press and her enemies, especially in the age of social media, and how it would affect her marriage and her already strained relationship with her husband. How far is Charlotte willing to go to win the election?
I loved Jo Piazza's previous novels that she wrote with Lucy Sykes, so I was eager to see how she would do going solo. I admit I didn't like this novel as much as her co-written novels, but I still found it engaging. The author always creates strong, determined, and ambitious women that you can't help but like. I also liked the flawless writing style and the witty and engaging plot. (NP)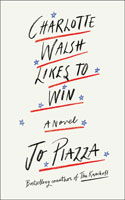 Charlotte Walsh Likes To Win, by Jo Piazza, is about what it takes for a woman to run for national office in America today.
The summary says: "Charlotte Walsh is running for Senate in the most important race in the country during a midterm election that will decide the balance of power in Congress. Still reeling from a presidential election that shocked and divided the country and inspired by the chance to make a difference, she's left behind her high-powered job in Silicon Valley and returned, with her husband Max and their three young daughters, to her downtrodden Pennsylvania hometown to run in the Rust Belt state.
Once the campaign gets underway, Charlotte is blindsided by just how dirty her opponent is willing to fight, how harshly she is judged by the press and her peers, and how exhausting it becomes to navigate a marriage with an increasingly ambivalent and often resentful husband.
When the opposition uncovers a secret that could threaten not just her campaign but everything Charlotte holds dear, she has to decide just how badly she wants to win and at what cost." Charlotte Walsh Likes To Win is out in July 2018.
TEXT