CHARLOTTE NASH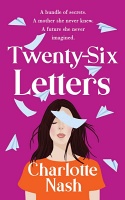 Twenty-Six Letters (2022)
As she approaches her 30th birthday, Wilhelmina is constantly stuffing things up at work, is dating a loser, and is on the outer with her family. Then she belatedly receives a stack of letters from her late mother Ann, who died when she was only a young child.
This takes Wil on a journey to the small English village where her mother grew up, on a quest to locate another set of letters hidden in a church and uncover more about her mother's life.
This was a touching read about family history and secrets as Wil (or Mina as her mother calls her) develops some insights about herself and her parents, and finally finds some roots.

---