CHANTEL GUERTIN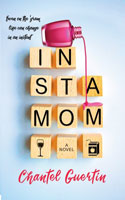 Instamom (2021)
Instagram influencer Kit has built her brand inspiring other women who don't want to have children. She meets chef Will at a function and sparks instantly fly. When they are assigned to work together on a campaign, she discovers he has an eight-year-old daughter, Addie. How can Kit maintain an authentic online presence as a child-free advocate if she is dating a single dad?
The crux of the story comes down to whether Kit will stay in the box she has constructed for herself or whether her desire to be with Will can change her mind. Or from a more feminist perspective, will she ditch her long-held belief because a hot guy turns up on the scene?
Kit is a character that many women will relate to – a dogged determination not to be made to feel less like a woman because she doesn't want to be a mother as well as being pulled in a different direction career-wise.
For me, she was a somewhat selfish character who surrounded herself with other child-free women while the female characters with children were portrayed as bitter and antagonistic. It felt like a missed opportunity not to have a likeable friend with kids in the cast to show that there doesn't need to be such a big divide between the two groups. Will also didn't feel like a worthy love interest although his daughter was a great little character.

---