CELIA HAYES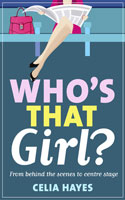 Who's That Girl? (2018)
Sam is a reporter at the Chronicle but is treated as a dogsbody by her colleagues. Particularly by the deputy editor Dave, who Sam has a desperate crush on. After a reckless fling, Dave has been banned by the editor from dating any woman for the next three months. So he invites Sam, who he doesn't find attractive at all, to work with him during Fashion Week. Only problem is that Sam gets roped into entering a curvy pageant and as she grows more confident in her appearance, her male colleagues finally take notice of her. Including of course Dave.
This book's release perhaps could not have come at a worse time given the current #metoo movement and spotlight on abuse of power. Dave is an abusive jerk who does not redeem himself at all. The way he manhandles Sam in what should be tender intimate moments made for uncomfortable reading. (Perhaps a sequel will be titled Where's That Guy's Sexual Harrassment Lawsuit?) I wonder if this is one of those books where the characters wrestled control of the storyline away from where the author intended to go. There is no rhyme or reason why Sam would find Dave an attractive mate and it was disappointing that the only reason people started paying attention to her was because she switched from jeans to dresses. Not because she stood up for herself, not because she became a better reporter, not for a single girlpower reason. The question I am left with: should a romance like this even have a place in 2018?

---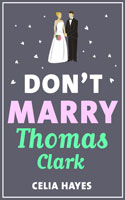 Don't Marry Thomas Clark (2016)
Thomas Clark's aristocratic grandfather has died and left him a hefty inheritance. However, it comes with a condition – that Thomas must marry Sandy, a girl who used to spend summers at their country estate otherwise the millions will go to charity instead. Sandy has lost her job and is trying to raise cash to set up a bistro with friends. So Thomas' proposal - as unwelcome as it is – comes at a handy time. Only problem is the pair can't stand the sight of each other. And so cues a delightful tussle between the pair, with each trying to make life as difficult as possible for the other as they are forced to cohabitate at his Canterbury estate. … Or so I thought. I loved the banter between Thomas and Sandy and was beginning to think I'd come across a hidden gem of a book, with a romantic coupling to rival the divorcing couple in The War of the Roses. But then after setting things up beautifully, the story – and the characters' appeal – fell away in the second half, with the narrative jumping around rather awkwardly. The wedding, with Sandy's pivotal decision, was a mere blip; their developing relationship wasn't convincing (it had about as much depth as a hot tub snog between two frisky Big Brother contestants); and other characters, who could have added interest or tension, appeared then disappeared without having any impact (gardener Joe had such promise too!). There is an absolute cracker of a story here – it just needed more work to make it on to the page for readers to enjoy.