CATHERINE WALSH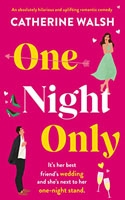 One Night Only (2021)
New York-based architect Sarah has travelled over to Ireland to be maid-of-honour at her best friend's wedding. The last thing she expected was to be seated at the worst table, with her most recent one-night-stand beside her.
Declan is the groom's brother and is still a bit miffed at being unceremoniously tossed out of Sarah's apartment after their night of passion. And now Sarah has had a chance to get to know him a bit better, she can't seem to get him out of her head.
The debut novel had cute characters, witty banter and engaging writing, although perhaps it needed a touch more conflict to stop the story dragging in the second half. But definitely an author to keep an eye on.

---