CATHERINE BENNETTO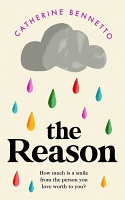 The Reason (2022)
Brooke's husband died during a routine operation and now she's received a huge payout. She feels terribly guilty about accepting the hush money, just like she feels guilty whenever she feels happy.
With her 10-year-old daughter, Hannah, being bullied by a girl at school, Brooke decides to spend some of the cash to brighten her day and in the process a new movement of joy is born. #NoReason.
This book starts with a memorable scene and continues to entertain throughout with its poignant and uplifting moments. It also has plenty of laughs, courtesy of Brooke's over-protective mother, the accident-prone orthodontist and a variety of yurt-living foreign guests. Loved it for some many reasons!

---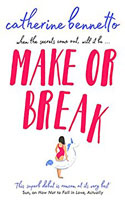 Make or Break (2018)
Jess and Pete have been together for six years. But between their jobs and Jess helping her sister Annabelle take care of her children, they don't spend too much time together.
When Pete surprises Jess with tickets for South Africa to attend her best friend's wedding, she thinks this is the chance for them to reconnect and finally getting engaged. But things go wrong at the airport and don't improve when they arrive in Cape Town. Jess' two weeks in South Africa will be full of adventures and completely different from what she expected.
I really liked the author's debut novel (How Not To Fall In Love, Actually), so I was really looking forward to this and wasn't disappointed.
The characters are engaging and colourful and I really liked Jess. She is funny, caring, and down-to-earth and never stops talking. She gets herself in embarrassing and hilarious situations that made me laugh-out-loud many times.
The plot is entertaining and captivating, there is never a dull moment. Highly recommended for those looking for a funny read. (NP)

---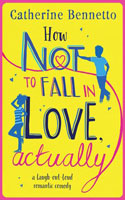 How Not To Fall In Love, Actually (2016)
Twenty-seven-year-old Emma has a job she hates, and a boyfriend who spends his time trying to come up with ideas that will make them rich. Her life drastically changes when she finds herself pregnant, without a job and without her boyfriend who has emptied her bank account to finance his latest invention.
Luckily, her grandmother has left her a cottage in Wimbledon, her four-year-old nephew needs a chaperone while he is filming a zombie "guts-and-bra" movie, and she finds a tenant when charming Joe turns up one night at her door drunk after finding his fiancee in bed with another man.
Emma is surrounded by a cast of hilarious and eccentric characters, from her octogenarian neighbour who thinks that the mailman is a Nazi who shaves cats' legs to her outspoken mother who spends her time criticising her choices, from her nephew who knows every bad word in the vocabulary to her sister Alex who always gives her the rational side of every situation.
With witty dialogues and a captivating plot, I read this refreshing and entertaining novel in two days laughing from the first to the last page. (NP)