CAROL MASON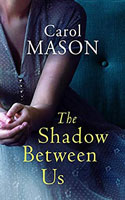 The Shadow Between Us (2019)
Unable to deal with life at home with husband Mark, Olivia has taken off to another town. There she joins a letter-writing club, where she forms a bond with Ned, a former SEAL who was wounded in Afghanistan. Many of the members use the art of letter writing to heal old rifts or hurts, including Olivia who writes to her absent daughter and tries to come to terms with the incident that rocked her marriage.
This story is an emotional read and really picks up the pace as readers wonder about that life-shattering event. The author keeps up the suspense well and she admits at the end that the way the story unfolded even took her by surprise.

---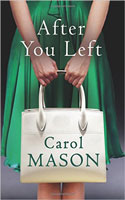 After You Left (2017)
Alice's new husband, Justin, walks out on her on their honeymoon, leaving her bewildered about the reasons why. All she figures out is it may have something to do with a phone call he received the day before their wedding. Then she meets a fascinating old lady called Evelyn at the art gallery where she works, and becomes involved in her poignant story – one which has parallels to her own life.
This is an intriguing, clever story about lost love, regrets and second chances which is told over different timeframes. I did find myself more invested in the storyline involving Evelyn and Eddy, with Alice's relationship woes taking a backseat.

---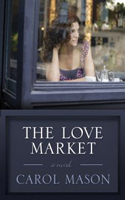 The Love Market (2010)
Celine Lewis is at a crossroads in her life. She is married with a daughter and loves running her matchmaking service. But she feels something is missing. With husband Mike, the spark just isn't there and they decide to end their marriage. One day Celine receives an email from her first love, Patrick, whom she met at the Love Market in Sa Pa in Vietnam and had a great four-day love affair with him. Once they start talking about their lives and their past she starts to think that maybe they could have a future together.
This is an absorbing read about ending a relationship and starting a new one. (CG)

---
Send Me a Lover (2008)
Angela's husband once told her that if he died he'd send someone for her to love again. She just never thought she'd lose Jonathan at age 36 - the victim of a car accident. Still finding it hard to get over her grief, she leaves behind her unfulfilling advertising job in Vancouver to visit her mum back in England. Together they go on a package holiday to Greece, to the island of Zante, where she meets two men who just might have been sent for her. But is Angela ready to love again and if so which man is right for her?
Read it for the antics of her mum getting her groove back and the page-turning teaser of who Angela will end up with.

---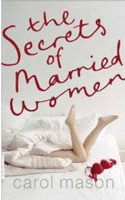 The Secrets of Married Women (2007)
Jill can handle not having children. What she can't handle is how her husband Rob has withdrawn from her when he finds out it's his sperm count that's the problem. With one friend confessing to a passionate affair and another living the perfect marriage with the perfect guy, Jill feels like she's missing out. Then she meets a gorgeous lifeguard who's had his eye on her for a while. Will Jill let her fantasies become reality or discover the secrets her best friends are keeping?
A tale of infertility and infidelity, with some clever twists to keep you turning the pages.