INTERVIEW
March 2012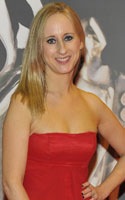 Caroline Grace-Cassidy
Caroline Grace-Cassidy is an Irish actress whose debut novel When Love Takes Over has just been released. You can find out more at her website www.carolinegracecassidy.com. (Interview by Shirley Benton-Bailey).
1. Tell us about When Love Takes Over?

When Love Takes Over is a romantic comedy. It's set in a Dublin auctioneers during the recession. The main character Mia sees her salary cut in half and her life dramatically change in three short months.

2. What inspired you to write the book?

I have been a film and TV actress for the past ten years. When I was expecting my first daughter Grace, I didn't work for a year. Believe it or not there are actually parts out there for pregnant women but for insurance reasons they never cast them. When I found myself expecting again I really wanted to try and do something creative with my year. I happened to flick on the TV and saw Poolbeg were running a Write A Bestseller competition...it suddenly hit me – that's what I was going to try to do. I had the character of Mia in my head for a long time.

3. How long did it take you to write?

I wrote When Love Takes Over in three months.

4. What do you consider to be the most challenging aspect of writing a novel?

DISCIPLINE. I found I would have any excuse not to begin writing. My desk was messy. The ironing was piled up. I found that distraction was the most challenging thing - but once I started I was flying.

5. Which comes first for you - characters or plot?

I would say plot.

6. If you were asked to compare your writing style to another author, who would it be?

Claudia Carroll.

7. Do you have a writing schedule?

I am in the middle of book number 2. The girls are in nursery 3 days a week so they are my full writing days. I tidy up the house after I drop them and sit down for 10am ... I try not to get up again until 4.30pm.

8. What are you reading right now?

Loving Miss Hatto! It's a screenplay by Victoria Wood - I have an audition for it on Friday. It's being made into a BBC drama.

9. What does the label 'chick lit' mean to you?

For me it means I will enjoy the read!!

10. What do you think is the biggest challenge to the newly published writer in 2012?

Books aren't really selling. People are watching every penny so it's very difficult. Three local book shops in my area all closed down just as When Love Takes Over was released. It's such a shame as local people buy local authors' work. I'm all new to the industry so hopefully I can hang on in there.

11. What advice would you give an aspiring writer?

Get a comfortable chair! :) Get started. Get started. Get started.

12. What's next for you?

My second novel is due in at the end of April and I'm also shooting a feature film Bere Island this summer.
---
---