CAROLE MATTHEWS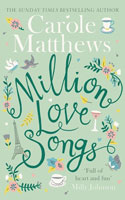 Million Love Songs (2018)
Ruby is starting over again after divorcing her cheating husband and quitting her boring council job to move to Milton Keynes. She works in a pub with her Gary Barlow-besotted best friend, Charlie, and is ready to embrace some new adventures. That's how she finds herself learning to scuba-dive with instructor Joe. She would love to get to know him better but he soon makes it clear that, as a single dad, he has to put his daughters first. Meanwhile Ruby also has caught the eye of the pub owner's son, Mason, a known womaniser.
With short chapters, it was an easy read to drop in and out of. I really enjoyed Ruby's narration and voice but can't say I liked the love triangle or why she thought it was okay to flit back and forth between the two guys. Some of the best bits were when Ruby was hanging out with Charlie at the various Take That events (the book's title comes from one of the band's earliest hits).

---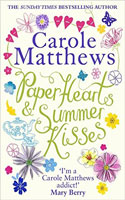 Paper Hearts and Summer Kisses (2016)
Single mum Christie has a long, tiring commute to her job in London each day but it's a well-paid position and she gets on fabulously with her boss. But her real passion is crafting – making cards and other handmade items - and she is often joined in her artistic endeavours by her teen son, Finn, who is having to spend a lot of time off school due to illness. When Christie gets the opportunity of a lifetime, her juggling of work, crafting and parenthood will be severely tested – in more ways than one.
This was a delightful story - I really warmed to Christie and her son and loved reading all about paper crafting.

---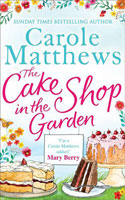 The Cake Shop in the Garden (2015)
Fay Merryweather has her hands full. Not only is she proprietress of the cake shop she runs in her mother's canal-side home, she's also a full-time carer for her mother, who is bedridden, albeit self-imposed, and is constantly shouting out for Fay. And then there's her sister Edie. Self-centred, spoilt and sullen, Edie is Fay's opposite and takes advantage of her good nature, despite being halfway across the world in New York. Thank goodness for Fay's steady, dependable partner, Anthony - he may not float her boat exactly but at least he's there for her, except lately when he's consumed with work, golf, or his bell-ringing ensemble, the Village Belles! Fay's right-hand woman, the brusque yet loyal Latvian, Lija, and regular customer Stan are perhaps the only two people who Fay can turn to. But when Danny Wilde turns up on his canal boat The Dreamcatcher, Fay may finally have the opportunity to put herself first for once, but can she break the habit of a lifetime?
Carole Matthews has hit on a real gem here with the idea of a canal-boat setting. It's quirky and original and offers a refreshing perspective on the great British countryside ideal. Although the glorious weather she depicts is perhaps rather hopeful for a British summer, she paints an idyllic picture of this little-seen visage of England and will make you want to jump aboard, or at least walk the canal paths searching out your very own cake shop in the garden. As characters go, Fay is something of a pushover, but it hardly seems fair to denigrate her simply for being too nice! She may be the central character but the book is made by the great cast of other characters, both good and bad, and to some extent it is Lija and Stan that are this book's heart. It would be great to return to the cake shop with Lija and Stan central stage.
Fay's mum Marjorie and sister Edie are the darkness to Lija and Stan's light and I really liked the portrait of families. Happy families this certainly is not. It was great that Matthews saw this through with Marjorie, although this did leave a lot of questions unanswered and to some extent it felt like this needed more attention. Unfortunately Edie's about-face at the end of the book just seem too forced and happy-ever-after and somewhat undoes all of the fresh and honest depictions of a less-than-perfect family dynamic up until that point. Both Edie and Marjorie aren't given enough depth and do come across somewhat as bad-guy caricatures, and there's something of the pantomime spirit to this novel, with its inflated villains, unconventional fairy godmother, Cinderella heroine and of course the dashing prince charming. But we all love a good fairy tale after all.(JC)

---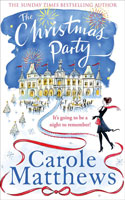 The Christmas Party (2014)
Fossil Oil's Christmas party is a no-expense-spared extravaganza this year and it's certainly going to be unforgettable. For new recruit Louise Young, it's her first Christmas with the company, and whilst as a single mother she desperately needs the job, she could well do without the advances of her boss, Tyler Benson.
Tyler's wife has racked up as many Christmas parties as hot dinners and the thought of another one, especially with her husband being less than accommodating to her, is nearly too much to bear. Melissa Harvey is also a seasoned pro. Being the wife of Fossil Oil chairman Lance has its benefits but she's not looking forward to another Christmas party where her husband will drink himself stupid, especially when she'll be sitting next to her lover!
Carole Matthews' twenty-fifth novel contains much more than festive cheer and a sprinkling of snow. Indeed there's barely a turkey in sight. Instead there's infidelity, deception, romance and a drunken magician! I loved the various plots that Matthews pursues in the novel, although there were a couple of gaps that I noticed and I would have preferred things to be a bit more wrapped up at the end. However, what's great about this book is that it doesn't go over the top on the Christmas theme and lose sight of the bigger issues of story or characters.
Matthews creates a memorable cast with wonderful storylines that just happen to play out against the backdrop of the Christmas party which means that more than just a Christmas story this is a good all-round chick lit read and exactly what Christmas chick lit should be all about. Twenty-five novels is a feat in itself and this one is a perfect testament to Matthews' achievements as a writer. (JC)

---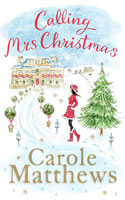 Calling Mrs Christmas (2013)
Cassie has been out of work for months and is finding life tough managing on just her partner Jim's wage. With Christmas around the corner, she decides to apply her love of all things festive into a business providing her services for writing cards, wrapping presents, decorating trees and planning parties, naming it "Calling Mrs Christmas". Cassie takes on millionaire Carter Randall as a client, he is a powerful man and used to getting what he wants. He asks her to arrange a trip to Lapland for him and his two young children, then persuades her to join them. Cassie has a taste of a lifestyle that in the past she could only dream of and it forces her to make an impossible choice.
This is a festive novel which also includes a gritty storyline about her partner Jim's job as a prison officer at a young offenders' unit and his relationship with two of the inmates. I found this part of the story the most interesting, as it was rather unexpected in a festive romantic novel! I felt that the author explored this difficult and sensitive subject matter really well. An enjoyable book, however personally I found Cassie rather selfish and irritating. Her partner, Jim, was a strong likeable character and his kind caring attitude towards the two boys made this story worthwhile for me. (EH)

---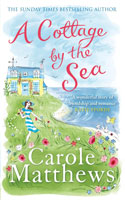 A Cottage by the Sea (2013)
Grace, Ella and Flick have been friends since their days together as university students. Over the years they've stayed in touch but because of their busy lives they hardly see each other. So, when Ella invites her friends to spend a week in the summer together at her cottage in South Wales, it is the perfect opportunity for them to spend some time together again.
Grace is bringing her husband Harry, with whom she hopes to have some quality time as well, since their relationship is no longer what it used to be. However, as soon as they arrive, the only thing Harry is interested in is the amount of wine he can drink in one afternoon and whether his mobile phone works or not. To make matters even worse, Flick arrives with her latest boyfriend, the delightful and attractive Noah, and Grace starts feeling all kinds of things she shouldn't be feeling as a married woman. This one week at Cwtch Cottage starts off as a simple summer holiday for Grace, Harry, Ella, her partner Art, Flick and Noah, but as the days progress secrets are unfolded and lives will be changed forever.
Carole Matthews' writing flows so easily, making her novels an absolute delight to read. I loved Grace; she's a great friend to Ella and Flick, trustworthy, friendly and who can blame her for having unexpected feelings for Noah? What a gentleman! Overall, this novel is a perfect summer read and exactly what a chick lit novel should be like, filled with tons of emotions and laughter. A Cottage by the Sea shows that it's never too late to find true love or to decide to chase your dreams, and that's a message we can't hear often enough. (JoH)

---
With Love at Christmas (2012)
Juliet Joyce (remember her from That Loving Feeling?) loves Christmas and she can't understand why there are people who hate it. After all, it's a time for family, friends and magical moments. What's not to love? Sadly, Juliet's husband, Rick, couldn't care less about the festive holiday, a sentiment shared by her pregnant daughter, Chloe, and her lazy son, Tom. Despite this, Juliet is still going all out to make this year the most special yet. However, poor Juliet has her hands full with more than most women could ever handle. But even a tragedy and a birth won't ruin the magic of Christmas for Juliet.
With more characters than you can count on one hand, you'd think it would be hard to keep track, however, Carole Matthews kept each character perfectly involved. It all worked brilliantly and this is a Christmassy read that will be sure to warm your heart and make you feel the magic of the season. (AS)

---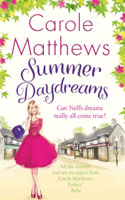 Summer Daydreams (2012)
Nell works in a fish'n'chip shop and lives with her long-term boyfriend Olly and their young daughter Petal. Their lives are happy but not particularly going anywhere. But after Nell helps transform the shop with a creative makeover, her boss encourages her to apply for an art course. This leads to Nell exploring her passion for designing handbags. Suddenly she finds herself with a burgeoning business - but Olly is not too happy about the toll it is taking on his family life. This is an enjoyable story centred around a likeable heroine with a desire to better her life.

---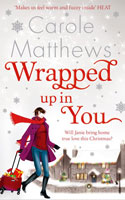 Wrapped Up in You (2011)
Janie Johnson is a hairdresser who was dumped by her boyfriend of seven years. She hasn't had a love interest since the break-up and spends most of her time working or home with her neurotic cat, Archie. When her ex comes to the salon to tell Janie that he is getting married and expecting a child, Janie quickly tells him that she is going on a holiday - to Africa! And now that she's told him, she might as well go.
But what she doesn't expect to find is love while on a safari with lions and hippos. But she falls for her Maasai warrior tour guide, Dominic, and by the end of the trip is broken-hearted to leave him behind. Janie returns to work and her old life nevertheless. Determined to make the long-distance relationship work, Janie makes another very costly trip to see Dominic at Christmas. Things don't go as planned however and Janie must decide if she wants a love who lives across the world or if she loves someone who is a lot closer to home.
Cleverly written with witty dialogue and interesting characters, this is a novel that can be read at Christmas or anytime you're looking for a sweet and romantic story. (AS)

---
The Only Way is Up (2010)
Lily has just returned from a very expensive Tuscan holiday to find her husband, Laurence, has lost his City job and their house and all their belongings have been repossessed. With only their holiday clothes to stand up in, the Lamont-Jones start picking up the pieces in a grotty house in a rundown estate. As Lily finds out who her real friends are, she is forced to make ends meet with less money than she'd have spent on a bottle of wine. Then her new job gives her the chance to return to the life to which she had become accustomed but is that what Lily really wants? If this charming story about the have-lots being reduced to the have-nots doesn't get you saving for a rainy day, nothing will.

---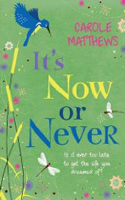 It's Now or Never (2010)
Annie and Lauren are twins in need of a change. On the night of their older sister Chelsea's 40th birthday they make a pact that they will change their boring lives. Annie intends to go on a Peru trip that her office is doing for a team-building charity event. But once she starts to raise money for the adventure, her husband isn't keen on the idea of her going abroad and leaving him behind. Lauren, who has been in a relationship with a married man for five years, says that this is the year he will leave his wife and be with her. This is a great read about finally changing your life when you're not happy with it. You will laugh out loud at the crazy things these sisters do in order to shake things up. (CG)

---
That Loving Feeling (2009)
Librarian Juliet has been married to Rick for nearly 25 years but now they seem to have drifted apart. They thought at this stage of their life they would have more time together but their two grown-up children, Tom and Chloe, are still loafing around at home and her mother, Rita, has left her husband and moved in. So when Steven, the man who left Juliet at the altar all those years ago, turns up out of the blue, she is tempted to secretly see him. This is a great story about what happens when a couple from the sandwich generation loses that loving feeling. You'll certainly be getting that giggly feeling from all the hilarious predicaments Rick inadvertently gets himself into. This is one of my favourite Carole Matthews' books to date.

---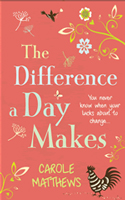 The Difference a Day Makes (2009)
Amy and husband Will both work long hours for a TV company in London and their ever-reliable nanny helps raise their two children, Tom and Jessica. But one day, on the tube on the way to work, Will collapses and finds out he has a weak heart. It is enough of a near-death scare for him to pack in his job and pack off his family to the Yorkshire moors, where he buys a rundown farmhouse and starts filling the yard with unloved or past-their-prime animals, including a crazy hound called Hamish. Amy is not keen on this radical lifestyle change but is willing to stand by her husband as he follows his dream. And soon she finds herself really thrown into the deep end. Just don't leave the book lying around where Hamish could get it!

---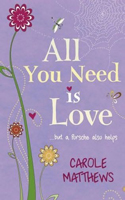 All You Need is Love (2008)
Single mum Sally Freeman lives in a rundown tower block in Liverpool with her 10-year-old son Charlie. He's never known his father, who's in prison, but he has a great relationship with Sally's ex-boyfriend Johnny, an aspiring artist. Johnny is desperate to get back together again; Sally is desperate to escape her poverty-stricken circumstances. When her computer tutor Spencer falls for her, Sally thinks she may have found her way out - in his Porsche. But after Sally gets funding to tidy up her neighbourhood, she may find it harder than she thinks to leave her life behind.

---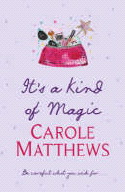 It's A Kind of Magic (2008)
When Emma's irresponsible but loveable boyfriend Leo turns up to her 30th birthday dinner very late and awfully drunk, she can't help wishing that he was different. And after realising she'll never change him, she tells him that the magic is gone and so begins the next phase of her life without him. That night Leo runs into the mysterious Isobel and falls under her spell. As this fairy girlfriend waves her wand and sprinkles her fairy dust around, Leo starts becoming more like the man Emma wished he was. Even if you don't like books with magical themes, read it for the hilarious cardboard box scene.

---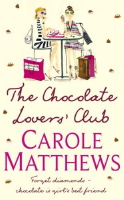 The Chocolate Lovers' Club (2007)
Temp worker Lucy Lombard can't live without chocolate so she forms a group with three other addicts - Autumn, Nadia and Chantal - which meets regularly at a cafe called Chocolate Heaven. Chocolate helps the four women deal with life's problems, such as a crush on a boss, a drug-dealing brother, a gambling husband and guilt about infidelities. The sequel is The Chocolate Lovers' Diet.

---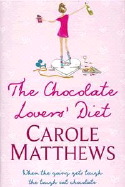 The Chocolate Lovers' Diet (2007)
The women of The Chocolate Lovers' Club are back. Lucy's boyfriend Aiden (aka Crush) has gone missing in Australia, and she thinks he's seeing another woman. Autumn's relationship with co-worker Addison is going well but her drug-dealing brother Richard is back from 'rehab' in the US, and is in trouble with some very unsavoury sorts. Nadia and her son are living with Chantal but thinking about giving her gambling husband, Toby, a second chance. And Chantal is trying to speak to her husband Ted - especially after she has some unexpected news - but he's avoiding her. Love the opening line: 'There are two types of women, I've found. There are those who are addicted to chocolate and there are bitches.' But even though I am a chocoholic, even I found the chocolate references too frequent - these women would even self-medicate their leg falling off with a bite of chocolate-covered peanut brittle.

---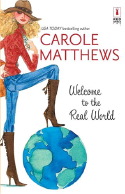 Welcome to the Real World (2006)
Fern Kendal is a struggling bar singer who desperately needs a break. She takes on an extra job as personal assistant to opera star Evan David, but finds she can't let him know about her singing dream. So Fern throws away her chances on TV talent show Fame Game when she discovers Evan is one of the judges. Evan's every whim is catered for by his agent, trainer, chauffeur, chef and a cast of thousands, but memories of a childhood tragedy keep him from truly enjoying all he's achieved. Though Fern can't seem to master her assistant duties, she brings a rare smile to Evan's face so when she goes on the run, he finds he can't forget her.

---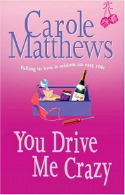 You Drive Me Crazy (2005)
This is a story about love finding you in the least expected place and at the most unexpected time. With two children and now a second divorce looming, Anna is facing her fear of the unknown. As a way to pass the time in the waiting room of her divorce attorney's office, she strikes up a conversation with Nick. She paints herself as a childless young woman divorcing her mega rich husband rather than reveal the truth about herself: she's desperate, broke, has no marketable skills and needs a job desperately. Anna gets a job as Nick's secretary (though he makes the tea better than she does) and it seems like their relationship has a lot of potential for something meaningful when their respective exes reappear. I loved Anna and Nick's vulnerability. Even though both have been exceedingly unlucky in love, neither is bitter or hateful. They are both looking for a happily ever after and haven't shut themselves off to it happening.
The author does an excellent job of showing both Anna and Nick's point of view of what each is going through. I especially loved seeing that Anna's role as a mother wasn't something she could hide - that it was a part of her soul. She unwittingly exposed this side of herself in a hilarious meat-cutting scene that made me laugh so hard I had tears rolling down my cheeks. Overall, this was a very entertaining story that I recommend for those looking for a feel-good story with characters who aren't perfect in looks or rich, but are human with all of the defects that brings. (SH)

---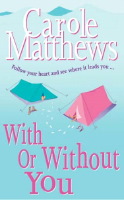 With or Without You (2004)
When Lyssa's latest IVF attempt fails, boyfriend Jake leaves, saying he needs space. But Jake, who works in advertising, isn't being 100 per cent honest about his reason for leaving. With Lyssa's work colleagues worried that her working for a baby magazine isn't helping matters, she decides to take off on an adventure - all the way to Nepal, on a hiking trip. There she meets tour guide Dean and suddenly begins to see her old life in an entirely new way.
This is an engaging story about a girl breaking out of her rut to discover that travel does indeed broaden the mind - and romantic options as well. The vivid descriptions of life in Nepal may well encourage some to follow in Lyssa's footsteps.

---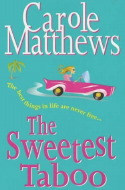 The Sweetest Taboo (2003)
Sadie meets Hollywood producer Gil at the London Book Fair and he soon sends her a plane ticket so she can join him in LA. But once she gets there she realises he forgot to mention his wife Gina, who may have run off with a rock star but still spends a lot of her time messing up Gil's life. Through her work at a talent agency, Sadie gets to know wannabe actor Tavis, who she gets along with so well. It's just a shame he's gay. This has some great one-liners but no real surprises.

---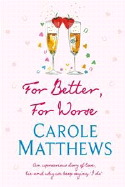 For Better, For Worse (2002)
Welcome to the most crazy marriage of the decade where you will find a gatecrasher, an ex-husband, a flummoxed erratic bride, a nearly greybeard groom, a gorgeous best man, a totally clueless Duck!! No wonder it turns out to be a near-debacle. Recently cheated on by a philandering husband of five years, single Josie Flynn is making a trans-Atlantic journey to attend her cousin Martha's wedding. On the plane, she meets Matt Jarvis, a cute recently divorced rock journalist who asks her out on a date. They spend an afternoon at the Statue of Liberty where cupid strikes them both.
However, Matt misses their next date and Josie, thinking she has been stood up, adds him to her ever-growing list of Bureau of Bastards. But Matt having missed his chance once is now determined to find Josie again. What follows is a delirious race to track down the maid of honour donning a particular lilac-chiffon bridesmaid dress at a certain "Martha's" wedding. Meanwhile, Josie's narcissistic ex-husband Damien realises that he wants Josie back so he tails her to New York to win her back at all costs.
The book is a light-hearted, amusing take on modern day marriages. Laced with moments of humour and introspection, the plot elaborates how the desire to settle down with the "Right" man is as important as warding off the insecurities that someone "More" Right is lurking out there somewhere. The book starts off well but loses its charm when the hilarious pandemonium becomes a teeny bit predictable. Look out for The Cat Formerly Known as Prince, a dangerously candid mother, Conversation Termination Sequence, a Sicilian "restoring honour" and finally Donald (who is of course) Duck!!! (PD)

---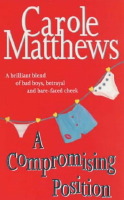 A Compromising Position (2002)
Emily's entrepreneurial boyfriend, Declan, secretly posts nude photos on the internet of her as a Saucy Santa. Amid the resulting media storm, she loses her teaching job and moves in with her new age friend Cara, who works at the local newspaper. Cara has her eye on photographer Adam but one night Adam sees Emily at a nightclub and without knowing who each other is they fall for one another. This is a hilarious story that will drive you nuts with the tension of will they or won't they ever meet.

---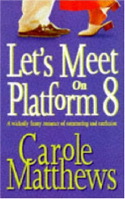 Let's Meet on Platform 8 (1997)
When Teri trips over on a train platform, Jamie comes to her rescue. They both travel on the same Milton Keynes-London commuter train. The vagrancies of the English weather often brings the rail system to a grinding halt which gives the pair - Teri works for a TV station and Jamie is in insurance - the opportunity to bond over meals and drinks. Jamie seems the perfect gent - except he is married. Jamie is torn - he doesn't want to betray his wife Pamela but he can't escape his growing attraction to Teri. This debut novel from Matthews is a tale of an affair with a difference and shows the promise she has lived up to ever since.