CARMEN REID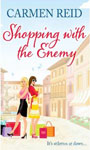 Shopping With The Enemy (2012)
Annie Valentine has no idea how and when she has lost her sense of fashion and style but this is surely a threat to her fabulous job as makeover guru on national television. She's also about to have a spectacular falling-out with her daughter Lana while her best friend Svetlana's relationship with her daughter Elena hits a rough patch too. When Elena and Lana present Annie and Svetlana with a business plan to save their fashion label Perfect Dresses which is partly owned by the mothers, they are turned down without much explanation. While Svetlana wants to pamper herself after the ugly row, Annie wants to take some time off and recharge her batteries in order regain her formidable fashion sense. Hence Svetlana whisks Annie away on an all-expense-paid trip to a luxurious Italian spa which promises to help you lose ten pounds in just five days. Bags are packed and spirits are high and the pair are about to have an unforgettable experience.
This book - the sixth instalment in the series - is a light and fun read, full of surprises and fabulous wardrobe choices. (SS)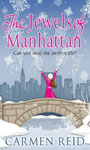 The Jewels of Manhattan (2011)
The Jewel sisters of Texas moved to Manhattan with dreams of success - only their lives don't work out as planned. When Emerald hatches a plan over Cosmopolitans to steal royal jewels, sisters Amber and Sapphire wonder just how far they will go to get the perfect life.
This is the first stand-alone novel of Carmen's I've read. You instantly get drawn into the characters and drama from the first chapter, and from that point you can't put it down. If you've read any of the Annie Valentine books you can expect the same sorts of fun characters, over-the-top situations and a hint of romance. If you want an easy reading chick lit novel, then look no further. (AB)


New York Valentine (2011)
This is the fifth instalment about the personal shopper turned TV guru Annie Valentine. After her TV show How Not to Shop gets cancelled, Annie is offered an opportunity by her old friend Svetlana that's too good to pass up. Annie flies to New York and takes along her daughter Lana, saying goodbye for a month to husband Ed, teenage son and baby twins. While in Manhattan, Annie gets seduced by the fabulous fashion, and Lana by New York men. But when a scandal surrounding Ed breaks out in London, Annie has to decide between her new love of New York and her family and home.
New York Valentine has the usual mix of calamities, love and fashion fixes that we've become used to with the other books in this series. The characters by now are like old friends and seem to improve with each book. (AB)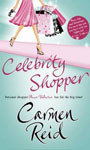 Celebrity Shopper (2010)
Annie Valentine is back for the fourth time for more shopping and makeovers. This time Annie has scored herself a second season with TV series How Not To Shop. However even with Ed at home looking after the baby twins, things aren't completely rosy, with never-ending house renovations, fears she might be replaced on the show and a nosy tabloid reporter hanging around waiting to get a juicy scoop on Annie. Her friend Svetlana and her newly found daughter Elena also make a reappearance in this novel. As Svetlana has lost most of her money through the recession, Elena starts a dress business called The Perfect Dress. But when Svetlana makes a few bad business choices behind Elena's back, is the business doomed before it even takes off? The action then heads off to that fashion mecca Paris before Annie decides to show the world that even she can hike up the Scottish hillsides in three-inch heels. Another fun read about our favourite fashion shopper - is there more tales to come? (PP)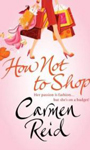 How Not To Shop (2009)
Move over Trinny and Susannah, run away Gok Wan as the Home Channel presents former personal shopper and retail worker at The Store Miss Annie Valentine. In this third book in the series, Annie has been offered the chance to work on TV as a wardrobe makeover expert to all the poor saps out there with their baggy clothes and shoddy hairstyles. Sounds glamorous? Well Annie thought so about this chance of a lifetime but it turns out that they have hired a big-wig star, the bossy Miss Marlise, to be the main talent. Annie also discovers that the pay is pitiful and that the show's budget is zip - it's style on a shoestring. Feeling pressure about the show, all Annie wants is to go home and relax in peace and quiet but things on the home front aren't looking too great. Her boyfriend Ed is left home with her two children, Owen who's gone on an eco-war and Lana, a sullen teen. And if that's not enough she gets lumbered with her friend/socialite/co-star's secret daughter, Elena, a 22-year-old Russian bombshell. Can Annie handle the pressures of the 3 Fs - fame, friends and family? (PP)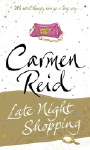 Late Night Shopping (2008)
In this sequel to The Personal Shopper, mother of two Annie Valentine is still working as a personal shopper and image consultant at London's upmarket The Store. She also is building a thriving eBay company. But with a big tax bill looming, she still has higher ambitions - and when she discovers some fantastic shoes made by Timi Woo from Hong Kong, she decides to import them. Only problem is she hasn't told boyfriend Ed, a music teacher at her kids' school, about her plans - or that she's planning to refinance their house. Even a relaxing family getaway to Italy sees her occupied buying up handbags at factory stores. The story ends in a way that makes another follow-up book very likely.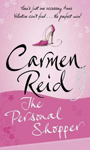 The Personal Shopper (2007)
Annie works as a personal shopper in a London department store. As a single mum to typical teen Lana and shy Owen, she leads a whirlwind life as her family's breadwinner, since her actor husband Roddy is no longer around. Much to the chagrin of her boss, she also earns money by doing private image consulting and operating an eBay store, selling bargain designer finds and hand-me-downs from clients. It's little wonder that she hardly has time for men. The first in the Annie Valentine series, her story continues in another three books.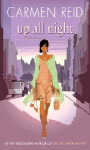 Up All Night (2005)
There are simply not enough hours in the day for Jo Randall - and this is no ordinary week. The newly divorced mother of two is a newspaper reporter whose love life is heating up thanks to a sexy younger chef, Marcus. And she's working on two big stories. She's chasing an interview with the Green Goddess, Savannah Tyler, who is expected to be the first Green MP and has been keeping her private life secret for a reason. Then's there her investigation into a potentially harmful vaccination as a whooping cough epidemic takes hold. Can she uncover the truth before it affects more families - including her own?

---
---