INTERVIEW
November 2007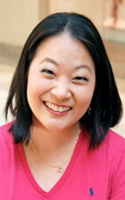 Camy Tang's Sushi for One? - the first in a four-part series - is out now. Originally from Hawaii, with a Japanese-American heritage, Camy majored in psychology and worked for a pharmaceutical company. She lives in California with her husband.
1. Tell us about the Sushi series.

Four cousins commiserate their single status - Lex the Jock, Trish the Flirt, Venus the Cactus, and Jennifer the Oddball. The only Christians in their large extended family, they vow to fight the stigma of the infamous family title, Oldest Single Female Cousin. But they have very different ideas about not acting as desperate as they feel about their bleak love lives. Who knew God would have His own plans of true love for each of them?

2. Which of the characters do you most identify with and why?

I like Venus the best because she's smart, disciplined and a little psycho. I'm psycho, but I only wish I was smart and disciplined. LOL

3. Lex in Sushi for One? is a volleyball coach. Are you sporty?

Not really, but I played coed volleyball for years. I "retired" when I tore my ACL - twice. After the second surgery, I vowed I'd never go through that again and stopped playing. However, my husband still plays once a week in a recreational league.

4. Your next book Only Uni (out in February) is based on The Corinthian Rules that you wrote several years ago. What has changed since the original manuscript?

Practically everything! The only things I kept the same were the names of the characters and the concept of Trish's Corinthian Rules. Everything else changed - character personalities, plotline, story events.

4. How does your faith affect your writing?

I'm Christian, and I write characters who are Christian. I try not to make the stories preachy because I don't "preach" in my own life. I try to live as Jesus wants me to live, not shoving Him in people's faces. I write characters who walk with God and make mistakes and pick themselves up again.

5. Tell us about how you started on your writing journey.

I've always loved reading, and I started writing in either junior high or high school (can't quite remember that far back ... :) My mom, the English teacher, encouraged me to write. I lay down my writing for several years because God asked me to (and trust me, I didn't lay it down without a minor war), but it was because I had the wrong motives for writing. I wanted fame and glory (Ha! I was so naive) rather than writing for God's glory. I took up writing again a few years ago because God gave me the green light. I gravitated to chick lit because it's so much fun to read, and there wasn't much chick lit in Christian fiction. So, I wrote what I wanted to read. God was awesome and helped me get contracted two years ago.

6. How did it feel to finally be published?

I felt like God was affirming to me that this truly is what He wants me to do. I love writing, but I also want to be in His will, and the book contract was affirmation of that.

7. What have you learnt about yourself through writing a book?

That I am not as disciplined as I'd like to be, that I can write a lot and quickly when I'm under deadline, and that I eat WAY too many snacks when said deadline is looming.

8. What are you working on now?

Two things: a young adult chick lit and a romance/chick lit single title.

9. Which book got you hooked on chick lit?

What a Girl Wants by Kristin Billerbeck. I was also strongly influenced by the tongue-in-cheek humor of Penny Culliford's Theodora's Diary. I'm ashamed to say I only read Bridget Jones after I started reading other chick lit titles.

10. What does chick lit mean to you?

It's all about the girl! Her journey, her successes and failures, her hang-ups and baggage, her strength, weaknesses and quirks. I love reading about heroines who I can relate to, who make me laugh and draw me into their crazy, fun, hectic lives.

11. What message do you hope readers will take from your books?

Life gives you lemons, so make lemonade. Most of my heroines have some kind of struggle that they have to face head-on and overcome, and they do it with both strong emotions and humor.
---
---