CAMILLE PAGAN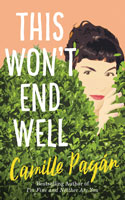 This Won't End Well (2020)
Annie has been pushed out of her chemistry job (for shoving a sexually harassing colleague), her best friend Leesa is always trying to spruik her wellbeing products and her fiance Jon has taken off to Paris - without her. Then Harper moves in next door and Annie becomes intrigued with her life and the private investigator tracking her.
Told through journal entries, emails and texts, this is a story of a woman who has taken a number of hits and wants to retreat from the world. But her own curiosity and instinct for wanting to do the right thing requires her to open up to new people and experiences.
Annie is a quirky character who will win her way into readers' hearts. The book has moments of sheer brilliance, such as her snarky email exchanges with Leesa and Jon, but I found the story less than captivating in the second half. Perhaps the title was foreshadowing.

---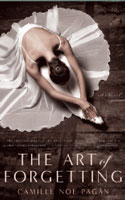 The Art of Forgetting (2011)
Marissa and Julia became best friends at high school. Their friendship is one marked by polar opposites, everything from their family background, personality and appearance - Marissa being the reserved and average-looking of the pair, while Julia, the alpha female, is rich, charming and beautiful, and always surrounded by admirers.
When Marissa falls in love with Nathan, whom she meets during her job at the coffee shop downtown, she decides to keep their relationship a secret, until she realises Julia is also attracted to him as well - forcing Marissa to make a decision between romance and friendship.
Fast forward 10 years, and both women are each crafting out a career for themselves in New York. Marissa is a senior editor at a health magazine and in a steady romance with Dave, while Julia has just been promoted to senior publicist at the New York City Ballet. As the two friends meet up to celebrate the latter's promotion, a car accident changes everything.
With both memory loss and a distinct personality change, Julia becomes a changed person. Now Marissa has to assume the role of being the big sister, taking care of her best friend, with the hope there will be some sign of Julia acting like herself again.
This debut novel is a poignant tale of friendship and love, with an amazing flow and great characters, one which you definitely have to read with your best friend. (XT)