MOVIE NIGHT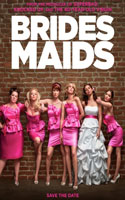 BRIDESMAIDS (2011)
Bridesmaids is a very funny but not entirely well-made movie. We see from the opening scene that it's going to be crude ? that's OK, we've been prepared by the hype and the trailers. Essentially, it's a movie made for women who appreciate gross-out, sexual or scatological humour and/or for their boyfriends. It's a film for the generation who grew up with South Park and Family Guy and maybe even for their mums who watched (and perhaps still watch) Saturday Night Live. Even in my old age I enjoy fairly sick humour, and certainly a good laugh from similar films such as The 40 Year Old Virgin and The Hangover. I definitely laughed good and hard during Bridesmaids; so hard, as a matter of fact, over the poop humour, that long after my teenage son had stopped, I was still struggling to control myself while tears streamed down my face. This is not your average rom-com/chick flick. The actresses are all exceptional. Maya Rudolph has terrific comic chemistry with Kristen Wiig, left over, no doubt, from their Saturday Night Live connection.
So, the film is funny. Now for the problems. The story is a little slow at first, and some characters not sufficiently developed. There's not a resolution to every situation and director Paul Feig tries so hard to wrap up the ending quickly, that certain details get overlooked. For example, (I don't think this qualifies as a spoiler) the bride, Lillian, played by comedienne Maya Rudolph, appears before her friend Annie, played by Kristen Wiig (also co-screenwriter, in a ridiculously poufy, couture wedding gown designed in France. Annie, who, as far as we know, is not a skilled seamstress, assures her friend she can fix it, and Lillian shows up in the next scene in the altered dress. How did this miracle occur? There's no explanation. And here's a small detail that I may be considered picky for pointing out, but to me is a symptom the director's overall lack of attention to detail: Annie, a down-and-out woman with continually diminishing resources and luck, always seems to have the same, perfect red manicure, week after week. And it's not like she's particularly a girly-girl. This kind of thing distracts me and makes me feel like the director, or someone, is being sloppy.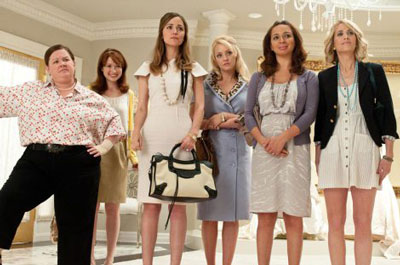 On the up side, the actresses are all exceptional. Rudolph has terrific comic chemistry with Wiig, left over, no doubt, from their Saturday Night Live connection. Melissa McCarthy, as oversized bridesmaid Megan, is so outrageous it makes me wonder why this delightful actress has been relegated to the terrible American sitcom, Mike and Molly. Who knew she was such a comedic gem? Fellow bridesmaids Wendi McLendon-Cove as raunchy, burnt-out mum Rita, and Ellie Kemper as her dumb, doe-eyed protege Becca, round off the main cast splendidly. Another standout is Annie's competition for maid of honour, Helen, played by Rose Byrne, who recently appeared as Russell Brand's love interest in Get Him to the Greek. She is perfectly suited for this kind of comedy, able to flawlessly pull off the sweet innocent act that hides the bad girl lurking inside. It is refreshing that this is a cast of not-beautiful (though not-unattractive) women, who have obviously not succumbed to Hollywood's expectation of cosmetic surgery and implants. They look how they look, flaws and all, and it makes us, as the audience, relate and connect. Finally, I did suspect that Maya Rudolph was pregnant, which is fine, but they seemed to be trying to cover it up and I wondered why. Who cares if the bride is pregnant? But in spite of the flaws, Bridesmaids is tons of fun. Be sure not to miss it.

Movie reviewed by Georgina Young-Ellis
---
---