INTERVIEW
May, 2008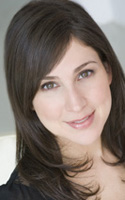 Manhattan lawyer Brenda Janowitz's debut book Scot on the Rocks (How I Survived My Ex-Boyfriend's Wedding with my Dignity Ever-So-Slightly Intact) was among the Chicklit Club's award winners for 2007. The sequel, Jack with a Twist, is out in June. She also teaches creative writing courses at Mediabistro.
1. Why did you decide to continue Brooke's story with the sequel Jack with a Twist ?

It was a no brainer for me to continue Brooke's story. I feel so connected to the character, so I knew I had more story to tell. In Jack with a Twist, her best friends are back, and there are also a bunch of new characters for her to have fun with this time around!

2. Does the story take up immediately after Scot on the Rocks?

The story takes up just a few weeks after Scot on the Rocks. I actually just completed work on a short story that fills the gap of the weeks between where Scot on the Rocks leaves off and Jack with a Twist picks up. Red Dress Ink will be publishing it for free on their website in late July, so check my website to get the link for it.

3. As a lawyer, what did you discover about "Engaging your adversary and other things they don't teach you in law school"?

As a lawyer, I definitely learned that there are lots of things that they don't teach you in law school, but I never engaged my adversary. Well, at least in the sort of thing that would result in a ring on your finger! When I was practising law, I definitely dated lots of fellow lawyers (you work pretty much 24/7, so if you don't date the people you work with, you'll never go out on a date . . . ), but the man I'll be marrying on May 25th (yes, I'm getting married this weekend!) is a doctor.

4. Any more books on the horizon?

I have a few more things that I'm playing around with. I've been working on a Young Adult novel, a women's fiction novel, and I also have the germ of an idea for a children's book. Yes, I'm all over the place! I daydream a lot.

5. How has life changed for you since our last interview?

Life has changed so much! I'm getting married on May 25th and then JACK comes out on June 24. There are just so many wonderful things happening right now - I'm trying not to get stressed out and just enjoy all of these wonderful things.
Janruary, 2008
1. Tell us about how attending an ex's wedding lead to the idea of Scot on the Rocks.

When I was invited to my ex-boyfriend's wedding, my life slowly but surely began to resemble some of my favorite chick lit novels. After a while, I said to myself, 'I've just gotta start writing this stuff down . . .'

2. Are there any exes on the invitation list for your upcoming wedding?

Hell no! Uh, I mean, um, no, I don't think so.

3. How similar to Brooke are you?

Very! They always say that your first novel is all about you, and in my case, that is very much true. There is so much of me in every part of the book - and not just Brooke. At readings, when I'm asked if Brooke is based on me, I often joke: they are all me! Even that cab driver in the end! He's me, too!!!

4. Have you been surprised at the book's success?

The whole process has just been so humbling and surreal. I'm just so thrilled anytime someone buys the book or emails me to tell me that they liked it!

5. If it was made into a movie, which actors could you see as Brooke and Jack?

I love, love, LOVE this question! For Brooke, the dream actress would be Drew Barrymore. For Jack, I love Paul Rudd. I also like the idea of making Jack the lead of the film instead of Brooke and going with Adam Sandler or Vince Vaughn. For Vanessa, I like Kerry Washington and for Trip, Ryan Reynolds. For Ava, I love Kelly Hu, and for Trip's mom, it's got to be Holland Taylor.

6. Can you do a passable Scottish accent?

Alas, no. At the start of my book tour, I thought I had it down pat. I was doing a reading at the Cornell Club, and I read that first scene where Brooke discovers that Douglas wants to wear a kilt to her ex-boyfriend's wedding. There I was, reading the entire scene, thinking that my Scottish accent was dead on. After the reading, my mother came up to me, and as I stood there, ready for the praise to wash over me, she said: "Your Scottish accent stinks." Needless to say, I picked a different passage for my Barnes and Noble reading.

7. What's the plot for the sequel, Jack with a Twist?

It's the story of a woman who plans the perfect wedding to her perfect fiancé, all while litigating the biggest case of her career. Which just so happens to be against her perfect fiancé. Hilarity ensues.

8. Tell us about the creative writing courses you teach at Mediabistro.

Teaching at Mediabistro has been such an amazing experience (and not just because they throw a killer book launch party!). I absolutely love everyone that works there, and the students I've had in my classes have all been intelligent, professional and talented (a few of my former students have already landed agents, in fact!) I teach workshops, seminars, and two different eight-week classes -beginner and advanced - and they are all geared towards drafting your novel and getting it published.

9. What's the best piece of advice you've got for a wannabe chick lit author?

I met Helen Fielding at a reading she did in NYC, and she told me that I should always write as if I were writing a letter to my best friend. I like that advice. My own advice would be even more basic, and it's the advice I always give in my Mediabistro classes: read a lot and write a lot. Simple as that!

10. How did you go from being a lawyer to writer?

I became a lawyer because I loved to write. I practised at a large law firm and also did a federal clerkship, but couldn't find the perfect niche for myself in law. I've always had a real love for fiction, and I'd find myself practicing law and thinking about these fictional stories that I wanted to write. So, I decided to pursue my dream of being a fiction writer.

11. Tell us about the Entertainment Weekly magazine incident.

It all started with an email from thriller writer Jason Pinter, congratulating me for being mentioned in EW. I had no idea that my book was going to be mentioned there, and so I did what any normal debut author would do - I ran to the drug store (actually drove to the drug store like a crazed lunatic - it's only by sheer miracle that I didn't get into an accident/ get a ticket/ get arrested), grabbed a copy off the shelves (again, grabbed it like a crazed lunatic), and flipped to the Books section to see my name in print. It was only after I took a moment to breathe that I realized that my book was actually listed as one of the top five mystery books that week, which was strange, seeing as my book is not a mystery. It didn't take me long to realize that EW had confused my book, Scot on the Rocks (How I survived my ex-boyfriend's wedding with my dignity ever-so-slightly intact), which came out in April 2007, with Scots on the Rocks (A Bed-and-Breakfast Mystery) by Mary Daheim, which came out July 2007. All in all, I was beyond thrilled to see my book mentioned in Entertainment Weekly. Even if it was just because of a mix-up with the title of another book, it was still pretty much the coolest thing ever to see my name in their magazine.

12. What does chick lit mean to you?

For me, chick lit is funny, fun, smart fiction about our lives today.

13. Name some of your favourite chick lit books.

There truly are too many to name! There are so many writers out there who I love, such as Sophie Kinsella, Marian Keyes, Kristin Harmel, Carole Matthews, Emily Giffin, Jennifer Weiner and Melissa Senate. As for favorite books, I love the sense of humor in the Shopaholic series - Becky's voice never fails to make me laugh out loud. Marian Keyes's Watermelon was one of the first chick lit books I read, and since then, I've always loved everything she's written (especially her latest, Anybody Out There?). Her books are always funny and poignant, and that's a balance I try to strike as a writer, too. All-time favorites also include Bridget Jones's Diary by Helen Fielding (natch!), Jemima J by Jane Green, and Elegance by Kathleen Tessaro.

14. Any new year's resolutions?


Well, I'm afraid that they are pretty much the same every year:

1. Eat healthy and work out.
2. Read more and write more.
3. Be more organized.
4. Spend more time with friends and family.

Now, if only I could visit with my friends and family while on the treadmill, with my laptop and a label maker affixed to the top of it, I'd be in good shape for '08.
---
---