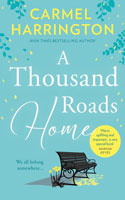 A Thousand Roads Home, by Carmel Harrington, is about second chances, friendship and unlikely heroes.
The summary says: "'Where is home?' DJ asked.
'Wherever the people you love are.' Ruth replied.
Single mother, Ruth, and her son, DJ, have never truly fitted in, but that didn't matter, so long as they were together. When their home comes under threat, their quiet life will change forever.
DJ meets Tom, a man who ten years ago walked out of his house and never looked back. Ruth, DJ and Tom have all felt like outsiders. Burdened with grief and insecurities, they are not living their best lives. But together, these three ordinary people will do an extraordinary thing...
A Thousand Roads Home is out in October 2018.
TEXT