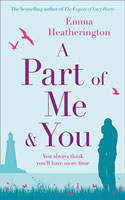 A Part of Me & You, by Emma Heatherington, is about a woman who is running out of time. The summary says: "Juliette always thought she'd have more time. But as her fortieth birthday approaches she is dealt the deadliest of blows - she has just weeks to live.
As the terrible news sinks in, Juliette's only concern is for her fifteen-year-old daughter, Rosie. Who will take care of her precious child? Who will love her daughter with the same fierce love? The answer lies in a secret Juliette hoped never to reveal...
Devastated at the loss of her own baby daughter, Shelley is barely managing to survive. Consumed by her grief, she has pushed everyone away - including the man who loves her the most. With her once happy marriage now in tatters, Shelley has nothing left to live for.
But as the lives of these two women collide, could Juliette's secret be the key to solving Shelley's heartache? And could Juliette's death give Shelley one final chance to live again..." A Part of Me & You is out in January 2018.