ANNIE SANDERS
Annie Ashworth and Meg Sanders write under this name.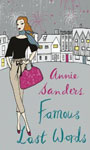 Famous Last Words (2010)
Clothes shop owner Lucy Streeter meets a psychic who can't tell her future - because it all apparently ends for her next Friday. And when all of the mysterious Micah's other predictions come true, Lucy begins to realise maybe her time really is up. So out goes her cautious nature - and in comes a more forthright character who gets a tattoo and radical hairstyle, dishes out some local justice, deals with some past family grievances and opens herself up for one last romance. This is a witty story with a seize-the-day message. And just like life, it may not all play out how you expect.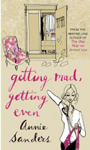 Getting Mad, Getting Even (2009)
Georgie and Flick run a Domestics Angels agency - providing help to clients on the home front doing everything from feeding a pet to overseeing renovation work. But one day, a woman requests their help to get back at her cheating husband. And so as word spreads, the pair get caught up in a more "Avenging Angels" role which sees them lurking around public toilets and pole-dancing in a club. But one of the humiliated husbands seems to want his own payback on Georgie and Flick. And it seems the need to get revenge is so much closer to home for one of them. It's written in the authors' usual easy-to-read and light-hearted style, but the storyline all worked out that bit too neatly at the end.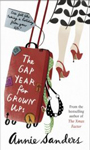 The Gap Year for Grown Ups (2008)
Music teacher Sarah has packed her children Tom and Claire off to university. And now she's feeling fed up with her marriage, her job - just everything staying the same. So she tells husband David that she needs time out, and heads to stay with her friend Nathalie in the south of France. There Sarah rediscovers her passion for the violin and starts dating a Frenchman. Meanwhile David is left coping with an empty house while Claire is having a hard time adjusting to uni life. With the pace picking up in the second half, this is a spirited tale about a mother who flew the nest.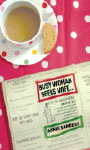 Busy Woman Seeks Wife (2007)
Alex has a demanding career as a marketing exec for a sportswear company. So when her mother - an actress/style icon of the 60s - has a fall and needs to move in with her, her friend Saff suggests that she place an ad for help. Out-of-work actor Frankie applies for the job but Alex isn't keen to have a man around the house. So his sister Ella applies, despite having not a domestic bone in her body. When she scores the job at the same time as her dream position at a radio station opens up, she convinces Frankie to take her place. And Alex's mum, The Bean, just loves her new good-looking companion - now they just have to make sure Alex doesn't find out. Another fail-safe read from this co-writing duo. This has all the right ingredients - a too-busy career woman, a jealous co-worker plotting her downfall and yet another bored housewife who turns to catering.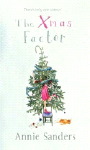 The Xmas Factor (2006)
Meet two women with very different approaches to the festive season. Academic Beth starts planning for Christmas months ahead, hoping to put on the perfect day for her new husband and his grown-up children. For Carol, who's just been made editor of ailing magazine Women's Weekly, she's so busy trying to turn it around that she doesn't even notice December is fast approaching. But she did manage to book her son and herself into a cottage in a quiet village, which is where the two women's lives converge.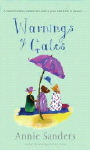 Warnings of Gales (2005)
Control freak Imogen rents a beachside cottage in Cornwall, which she shares with the families of easy-going friend Sophie and last-minute rope-in, single mother Jo. Amid rainy weather, tensions rise in the house until an incident forces them to club together.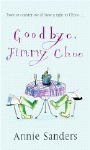 Goodbye Jimmy Choo (2004)
Bohemian copy editor Isabel Stock meets designer-clad interior designer Maddy Hoare at a ladies' lunch. Both are fish out of water, having moved to the countryside for their husbands' careers. Then when Maddie finds herself widowed, she uncovers her great-grandmother's book of French recipes for cosmetics and the women form a natural cosmetic company.

---
Also by author:


Instructions for Bringing Up Scarlett

---